Despite common entrenched beliefs, leadership skills can learned. Building familiarity with Adaptive Leadership Theory, practicing reflection, and treating one's environment as a "case in point" laboratory full of adaptive challenges helps leaders build up the arsenal of skills needed to effectively exercise adaptive leadership in and out of one's workplace.
Heifetz et al. (2009) puts forth a model of adaptive leadership consisting of three elements: observation, interpretation, and intervention.  This continually self-refining iterative process is designed to cycle through the three stages in a particular order as the stages build on one another, as illustrated in Figure 2-5 (Heifetz et al., 2009, p.32).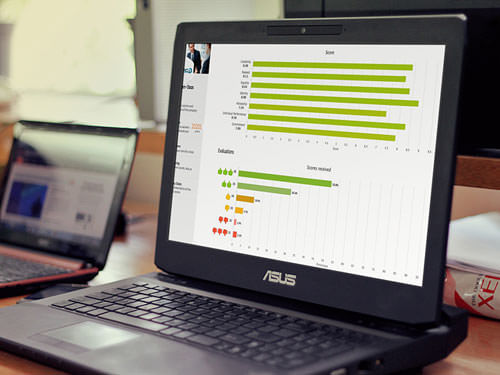 Working on improving employee engagement?
EPIC is an Employee Engagement software that gives you the tools and insights to create a workplace culture that encourages engagement, loyalty, and trust.
The practice of reflection (key ingredient in Observe and Interpret stages of Adaptive Leadership process) is integral to learning and leading adaptively.  Heifetz et al. (2009) prescribes reflection as a necessary ingredient in learning and building adaptive capacity for people from all levels within organizaiton, including senior executives.
Greene (2012) explains why reflection is a key component for developing entrepreneurial leaders, who, similarly to adaptive leaders, work in the environment of uncertainty and lack of known solutions:
Reflection is an important process by which knowledge is developed from experience. When reflecting, one considers an experience that has happened and tries to understand or explain it, which often leads to insight and deep learning—or ideas to test on new experiences. Reflection is particularly important for perplexing experiences, working under conditions of high uncertainty, and problem-solving. (Reflective Practice section, para.2)
Adaptive Leadership fundamentally differs from the traditional forms of leadership where the leader has the answers.  Adaptive Leaders facilitate organizational transformation and growth by asking questions.  Practicing Adaptive Leadership requires constant learning on the part of the leader and everyone in the organization.  Asking tough questions, reflecting on experiences and learning from failures are the vital to developing Adaptive Leadership skills.
The following two tabs change content below.
Susanna Katsman
Susanna Katsman recently joined the Organizational and Workforce Initiatives Team, which provides integrated services to Harvard Longwood Campus Community. In her role as a Program/Training Specialist Susanna is leading a cross-school effort to create a comprehensive and efficient onboarding experience for the new employees at the Harvard Medical School, Harvard School of Public Health, and Harvard School of Dental Medicine. Susanna earned her B.A. in Biology from Brandeis University and is working towards her Ed.M. in Human Development and Psychology at the Harvard Graduate School of Education. Susanna's professional interests include leadership development, work process design, and teaching innovation.
Latest posts by Susanna Katsman (see all)