Small businesses sometimes struggle when it comes to meeting their HR needs. The time and effort that they want to spend on the business is focused elsewhere to ensure their company is staffed with the best and is meeting all necessary state and federal employment guidelines. Small businesses often turn to outsourced HR firms to save time and money, two precious assets for a business that is only beginning its growth. While HR outsourcing can benefit some companies, it can also hinder others. Here are the pros and cons of HR outsourcing for small businesses.
Benefits
Some businesses choose to outsource the entire HR department, from recruiting to benefits administration, while others choose only to outsource specific needs. Depending on your business, you may want certain processes handled in-house, such as hiring. The benefits that come from outsourcing various tasks include saved time and a decrease in liability risks.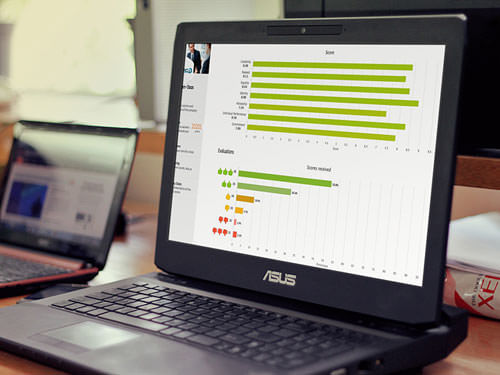 Working on improving employee engagement?
EPIC is an Employee Engagement software that gives you the tools and insights to create a workplace culture that encourages engagement, loyalty, and trust.
 HR outsourcing often means lower business expenses. If your HR firm is responsible for wages and benefits administration, your business won't have to worry about those or even the related taxes.
From keeping track of all the employment laws you must abide by to the hours spent interviewing, hiring an HR agency can mean more time is spent focused on the core of the business.
Training and education of new hires can now fall into the hands of someone else. If your contract with an HR agency includes training, your employees can save valuable time from not having to educate new employees of company policies.
In the event of a disgruntled employee, your business can reduce its liability. Because the person is employed by the HR agency, a company's risk in being at the end of an employment lawsuit is reduced.
Drawbacks
Some businesses may find HR outsourcing isn't the best option for their company. Whether it is because of a certain company culture or because of prospects' qualities, HR outsourcing isn't for everyone. Make sure you check the track record of the company you hire to see if they have a record of success and satisfied customers.
Some businesses may find that they aren't getting the quality they were hoping for. Making sure you are a part of the hiring process is important. You'll have a better understanding of whether the candidate will fit in to your company culture and meet the position's expectations.
 HR outsourcing can sometimes cost a business more than anticipated. Saving money may be a main motivator for choosing to outsource, but the wrong company or wrong plan can end up costing you more than you had originally planned.
HR outsourcing can lead to a larger number of layoffs. Because the agency can handle different department operations such as payroll and benefits administration, your business may no longer need some in-house employee(s).
Hidden costs or increased costs are sometimes a problem when businesses choose to outsource. Pay attention to the contract and under what circumstances costs may be adjusted to protect your business from crippling fees.
The Human Resources Outsourcing industry is growing. With tougher economic times, many small businesses are turning towards HR agencies to save money. And while saving money may be a result for many companies, it isn't always the case. The contract, fees, and quality of hires and procedures are all things to take into consideration as you determine whether HR outsourcing is the best method for your business.
The following two tabs change content below.
Get more tips on interviewing, hiring, managing and engaging your employees. Dianne Shaddock is the President of Easy Small Business HR, Employee Hiring and Managing Tips and the author of the eGuides, "How To Supervise:  What Your Boss Never Told You Before You Took the Job", A Step-By-Step Guide For New and Seasoned Managers and "How To Find and Hire the Best Employees".
Latest posts by Dianne Shaddock (see all)