There's an obvious reality I've been preaching for a while: performance reviews just don't work.
If you're the employer and you're critiquing your employee one-on-one based on five set levels of performance, you're shooting yourself — as well as your employee — in the foot. See, the real challenge is the pace of work and knowing one simple fact: things change. The way people work from, say January to March, can change. The way your employees operate with certain people can change. Finally, the level of engagement your workforce has can also change.
So, when it comes to performance reviews, you are essentially limiting your employee to set standards that should have been fluid in the first place, which doesn't exactly tell them anything or help them improve more than just to benchmark status.
Like we said, performance reviews just don't work. Need more reason?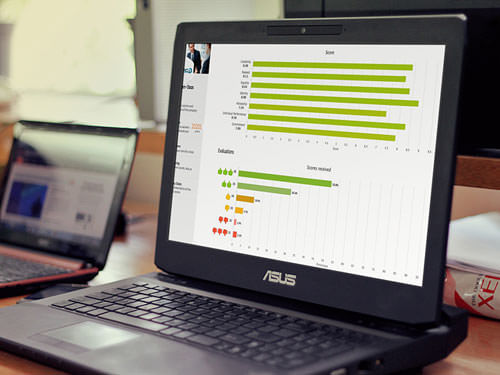 Working on improving employee engagement?
EPIC is an Employee Engagement software that gives you the tools and insights to create a workplace culture that encourages engagement, loyalty, and trust.
1. Performance reviews don't engage your workforce
As an employer, it's your duty to get your workforce pumped about their job, whether it's obvious or not. Well, performance reviews don't exactly have a hand in how your employees positively operate. It's actually quite opposite. They don't engage them to do better because the benchmarks aren't right. Why? As a manager, you may not know what they do besides their main duties. Truth is, employees know their job better than you do.
Further, employees do things on their own terms, from working a certain way to operating with the people they work with best. Performance reviews don't allow them to feel good or encourage behavior because they don't assess them on the right levels.
2. Reviews are built for bottom performers
Performance reviews are essentially built for managing bad employees or telling them what they aren't doing right. They aren't built for encouragement–or even empowerment. Think about the last time you had a performance review. It factored in the lowest of the low, didn't it? Whether or not you reached this level is irrelevant. Performance reviews judge employees on what is required of them at base level, not on what they have actually achieved.
3. They aren't real-time
Let's say you give performance reviews twice a year. You base your employees performance on some generic expectations or certain benchmarks you would have liked them to achieve. However, here's the kicker: Most goals are accomplished in 29 days. If these reviews or critiques don't happen in real-time, what are you missing?
Just because a goal wasn't as overt as others, doesn't make it any less important. In fact, it could have led to something even bigger, but this isn't taken into consideration because reviews don't happen daily or weekly. They take place when the little things aren't as important, devaluing the performance level of your employees.
4. They don't work the way we do
We live in a social world now. We collaborate to connect with all workers, from those in your department to the outsourced firm. In actuality, we don't want updates in two months or once a year. We want updates as things happen…and performance reviews typically don't leverage how your team is working at this very moment.
5. No one likes them
Though it doesn't exactly matter if your employees like performance reviews or not, it says something when it's loathed upper and senior management as well. Not only do many employers have a hard time figuring out what their workforce actually does, but they don't make a real effort to find out, which ends up hurting the worker. Is that progress or just moving backwards?
So, with all this is mind, how can we improve as employers and actually help our employees be a better workforce? As employees stay at companies for less than 2.5 years, it's important to engage them, as well as show them the real value or your organization so they'll stick around. Employees need to be able to see how the team, as well as the company focuses, what objectives they are trying to accomplish, and then they can set goals on how to get there. More specifically:
Set clear expectations and maintain the mission: If employees aren't clear on the corporate goals—and the timelines around those goals—then they can't be expected to perform strongly against them.
Allow your workforce to self-assess: Performance reviews shouldn't offer employees appraisal surprises. Instead, goals need to be social. Social Goals gives employees the power to assess their own accomplishments and results at a glance.
Connect the dots: When employees can see how their contribution is impacting the organization—when they can draw lines between their work and the accomplished goal—it engages them at higher levels. Social Goals connects the dots.
Get social: Performance management is rapidly becoming social performance, a concept that includes co-workers, managers, and even executives in the process of sharing, tracking, collaborating and offering feedback and recognition on goals.
Think like an employee: Employees won't use a performance management system they don't like. So, improving the system you have may be futile. Platforms like WorkSimple encourage the usage of Social Goals, using interfaces as friendly as Facebook to encourage engagement.
What do you think? Do you value performance reviews? Why or why not?
The following two tabs change content below.
Get more tips on interviewing, hiring, managing and engaging your employees. Dianne Shaddock is the President of Easy Small Business HR, Employee Hiring and Managing Tips and the author of the eGuides, "How To Supervise:  What Your Boss Never Told You Before You Took the Job", A Step-By-Step Guide For New and Seasoned Managers and "How To Find and Hire the Best Employees".
Latest posts by Dianne Shaddock (see all)