You just interviewed the perfect job candidate and now the only step left is to check their references.
Your job candidate presents you with a list of references which includes a letter of recommendation.  Great! With letter in hand, there is no need to call this particular employer.  The letter is written on business stationary and it all looks legit.
Should you accept the letter of reference in lieu of a telephone conversation?  Absolutely not.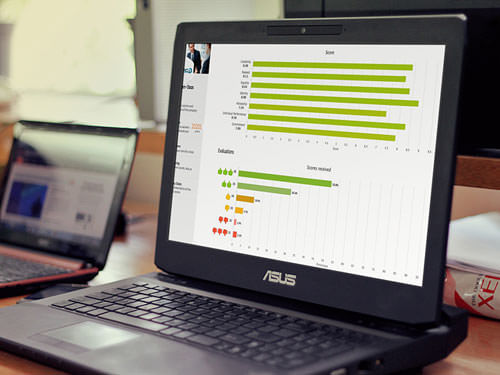 Working on improving employee engagement?
EPIC is an Employee Engagement software that gives you the tools and insights to create a workplace culture that encourages engagement, loyalty, and trust.
It does make sense as to why some employers feel that a written recommendation is a perfectly acceptable  employment verification.  A letter offers a hedge against the possibility that the person providing the reference may no longer be employed at the company.  Under these circumstances, a letter of recommendation makes perfect sense.
Although written recommendations was once deemed an acceptable form of employer references, it is a practice that does not fully meet the needs of hiring managers who need to substantiate that their ideal candidate is a solid hire.  Here's why:
Recommendation letters contain limited information, and are often quite generic.  The reference giver often summarizes the information that they want to focus on which means that there is specific information that will likely be helpful to you in terms of assessing the candidates' qualifications that will be lacking from the recommendation.  A recommendation that summarizes that "Beth worked well with others and is a wonderful employee who would be an asset to any organization" does not give you the core information that will help you to make an educated hiring decision.
Letters of recommendation are sometimes used as part of a separation agreement to ease an employee's transition out of a company.  This is not always the case, but you will have no way of really knowing if this scenario applies to the applicant that you are considering for hire.  One red flag regarding these types of letters that I have encountered is that the recommendation is extremely brief and almost too generic to the point of not being helpful at all.  Asking the right follow up questions such as "can I call the reference giver" may help to suss this out.
You may not be able to verify the reference.  I'm not sure if anyone can verify that the person at the other end of the line is in fact who they say that they are with 100% accuracy, but it is definitely easier to verify legitimacy than it is with written and often outdated letter.
Employees have access to company letterhead and if someone was so inclined, it would not be too difficult to forge a letter of reference. I'd like to think that this is not a frequent occurrence, but the reality is that references are faked, (regardless of whether the reference is by phone, email or letter) more often than we would like to believe. In fact, there is a cottage industry that caters to applicants interested in purchasing fake references.
My recommendations:
Always verify references.  If you feel comfortable accepting a letter of reference, at the very least get permission from the candidate to speak to the reference giver and ask why not if the applicant indicates to you that you cannot contact the person directly.
Always ask for direct supervisor or at least indirect managerial references and then call the references. If your applicant gives you references for co-workers, insist on direct supervisory references and be sure to ask follow up questions if there seems to be an issue with speaking to a supervisor directly at their place of employment.
Ask the candidate to give you the business telephone number, (not the cell phone number) of their references.
Once you have permission to contact a reference, be sure to use some due diligence and call the company directly and ask for the reference giver if "only a cell phone number is available".
Be sure to ask the right reference questions once you do have the reference on the other end of the line  to make the most of your time.
The following two tabs change content below.
Get more tips on interviewing, hiring, managing and engaging your employees. Dianne Shaddock is the President of Easy Small Business HR, Employee Hiring and Managing Tips and the author of the eGuides, "How To Supervise:  What Your Boss Never Told You Before You Took the Job", A Step-By-Step Guide For New and Seasoned Managers and "How To Find and Hire the Best Employees".
Latest posts by Dianne Shaddock (see all)