Why do employees decide to leave their jobs?
You may be familiar with the adage employees do not leave jobs, they leave managers. Although this may be true in some cases, a LinkedIn survey revealed that the main reason why employees decide to leave their jobs is for career advancement opportunities.
According to the 7,530 LinkedIn members from 5 countries (US, UK, India, Canada and Australia) who participated in the survey, the number one reason employees resign is to advance their careers. Other reasons for quitting include lack of leadership and better compensation or benefits.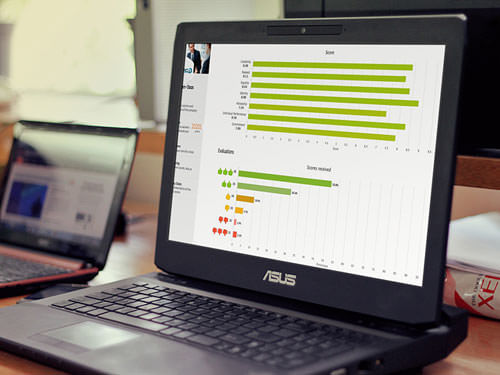 Working on improving employee engagement?
EPIC is an Employee Engagement software that gives you the tools and insights to create a workplace culture that encourages engagement, loyalty, and trust.
The survey also found that gainfully employed professionals who are not actively looking for a new job would be willing to leave their companies for employers who can offer better compensation or benefits.
Free E-Book: A Crash Course on Building Employee Retention – Actionable information and advice on how to keep your best employees happy
Focus on Retention
Many businesses make the mistake of only focusing on hiring good people but then neglect to retain their high performers once they are in the door. Losing good people = losing money.
The cost of employee turnover is high; up to $75,000 to replace an employee who earns $50,000 a year.
These eye opening statistics show that you have to balance good hiring with effective retention strategies.
One simple step that you can take to ensure that your employees won't go looking for greener pastures in the short term is to highlight the career advancement opportunities that are available within your company. The LinkedIn survey found that 25% of professionals who quit their job were not aware of their company's retention and advancement initiatives.
Is succession planning built into the fabric of your company culture? Have you spoken to your high performers directly to let them know that you are interested in their career development and future with your organization? Are your employees generally aware of your company's commitment to career advancement? Do they know that you value filling jobs internally as opposed to always bringing in new people from the outside to fill plumb roles?
Your retention strategy should start well before your best staff even think about wanting to leave.
The following two tabs change content below.
Get more tips on interviewing, hiring, managing and engaging your employees. Dianne Shaddock is the President of Easy Small Business HR, Employee Hiring and Managing Tips and the author of the eGuides, "How To Supervise:  What Your Boss Never Told You Before You Took the Job", A Step-By-Step Guide For New and Seasoned Managers and "How To Find and Hire the Best Employees".
Latest posts by Dianne Shaddock (see all)