Transcript of Easy Small Business iTunes Podcast #29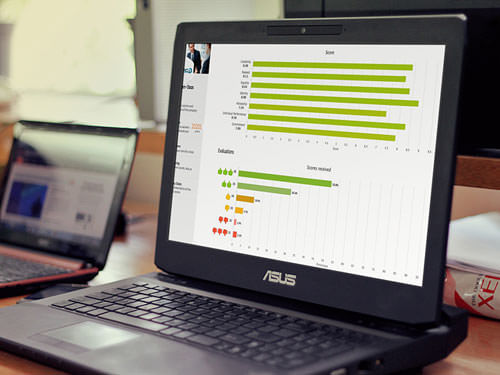 Working on improving employee engagement?
EPIC is an Employee Engagement software that gives you the tools and insights to create a workplace culture that encourages engagement, loyalty, and trust.
My 5 recommendations:
1. Be transparent by letting your employees know what you expect of them. This starts on Day One after you've hired your employee but it's never too late to revisit this strategy with your current staff and in fact it's something that I strongly advise. With new employees, it's as simple as scheduling some one on one time with them to review your company's policies and expectations whether you have policies in writing or not. You should have core company policies that you and your staff can access on your website or in a handbook. More importantly, be sure to be crystal clear about what you expect of your employees so that there are no misunderstandings.
2. Make meeting with staff either individually or as a group a standard part of your practice. It's difficult to motivate and lead staff when you don't understand the work that they do or the challenges that they face. So let's be clear: Understanding the work that your employees do and being able to actually perform the work yourself are two very different things. And I'm not suggesting that it's a best practice to be able to step into the role of your direct reports although that may be essential depending on the company that you work with.
What I'm suggesting is that in order to be successful with employee management you need to be able to decipher the challenges that your employees face as well as give employees the tools and the support that they want and need to be successful. Remember, your employees' success translates into your success as well as that of your company.
In order to stay abreast of the work that your staff does and to offer motivation, guidance and support, it's important to meet with your employees regularly. Don't make the mistake of thinking that it's a waste of time. It's actually an essential tool that will help you to be a successful leader.
3. Don't be a part of the problem. So what exactly do I mean? Well, don't be the stumbling block that prevents your employees from doing what you hired them to do by micromanaging them. It's important to empower employees by giving them the leeway to make decisions that don't require your approval first and only as appropriate of course. This is imperative because employees empowered to make decisions understand that their professionalism is valued.
4. Let employees know that they are doing a good job or not. Your staff wants to know if you feel that they are doing a good job or whether there are thing that they could be doing differently. After all, who wants to think that everything is going well only to be told at an annual performance evaluation that you have issues or concerns. And besides, positive reinforcement will help to motivate your employees and aid in your employee's job satisfaction. It also saves you time, frustration and, in some cases, money because your employees aren't wasting time on making mistakes due to a lack of understanding of what you really want from them.
5. Don't stick your head in the sand when it comes to difficult workplace issues. It may seem easier to just ignore poor behavior or hope that it will eventually go away magically but the more likely consequence for ignoring poor workplace behavior is that you potentially lose clients, customers, or even your best employees who are frustrated by working in a dysfunctional work environment.
You need to address issues as the issues occur and be clear as to your concerns. Let your employees know what you expect moving forward and what the consequences are if workplace issues resurface. And of course you always have these types of conversations in private.
The following two tabs change content below.
Get more tips on interviewing, hiring, managing and engaging your employees. Dianne Shaddock is the President of Easy Small Business HR, Employee Hiring and Managing Tips and the author of the eGuides, "How To Supervise:  What Your Boss Never Told You Before You Took the Job", A Step-By-Step Guide For New and Seasoned Managers and "How To Find and Hire the Best Employees".
Latest posts by Dianne Shaddock (see all)