Today's guest post is from Josh Tolan is the CEO of Spark Hire.
Hiring the right people for every open position is critical for any human resource executive, corporate recruiter, and manager. As most employers realize, a bad hire can be detrimental to the success of a company.
Experts estimate the financial cost of a bad hire at 20 to 200 percent of an employee's annual salary for recruiting, interviewing, and hiring.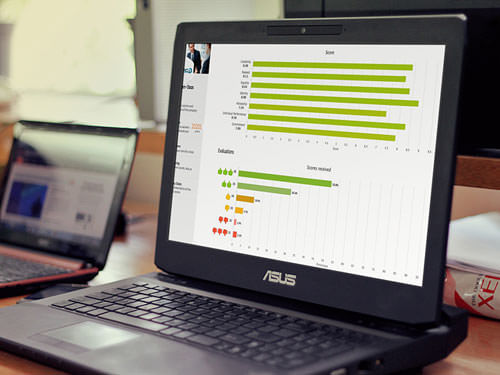 Working on improving employee engagement?
EPIC is an Employee Engagement software that gives you the tools and insights to create a workplace culture that encourages engagement, loyalty, and trust.
Determining if a candidate's skill set fits the position criteria is often the most difficult task to master. According to a Robert Half Finance & Accounting survey, a poor skills fit is the top factor (29 percent) leading to a failed hire, aside from performance issues. Personality conflict comes in at number two at about 22 percent.
A failed new hire can be defined as an employee who was terminated, left under negative circumstances, or received disciplinary action. Nearly 50 percent of new hires will fail within the first 18 months.
When I first saw that statistic, I instantly thought that was a high turnover rate to overcome. Then I realized that the even bigger issue is that you are dealing with the consequences of a bad hiring decision for more than a year — yikes!
How can you improve the odds and find the right match for the job you are filling?
1. Know the role. Have a clearly defined and realistic position description and outline the qualifications necessary to apply.
2. Look beyond the resume. People are more than just their work experience. Take the time to listen and find out more about your candidate's personality, communication ability, teamwork, and preferred management style. Video profiles can help you do this easily and effectively.
3. Connect.  Both in-person and video interviews (interviews where you can actually see and connect with the candidates) can give you insight into how your candidate will fit in with the corporate culture, provided you ask questions beyond technical competence. Focus on personality and motivation … the things that can't really be taught.
4. Let them interview you. You can learn a lot about a candidate through the questions they ask you. What is the focus of their line of questioning? Are they asking more about "what's in it for them" or more about how they can contribute to the team and/or company?
5. Ignore your "gut instinct." Hitting it off with a candidate does not mean that they are the right fit for the job. Often, intuition and "liking" an applicant can lead to overlooking crucial job requirements.
6. Utilize internal resources. Have candidates speak to multiple people in the organization like managers and key members of the team, especially those with different styles and perspectives. Hiring should be a team effort.
Taking the time to find the "perfect match" for a position is essential. Avoid the urge to simply fill as fast as you can and instead focus on making sure the candidate's skills and personality are going to be a fit for the long run.
What steps do you take to find that ideal fit for a position? 
The 10 best practices to wow your new hires. Get your free white paper
The following two tabs change content below.
Josh Tolan
Guest Post:
Josh Tolan
is the CEO of Spark Hire, a video powered hiring network that connects job seekers and employers through video resumes and online interviews.
Latest posts by Josh Tolan (see all)