Hiring new employees is no easy task. Although the recession has created a large pool of overly qualified candidates in nearly every business sector, you may worry about taking on experienced workers at lower pay than they're used to since a better offer from another company (which is bound to come along eventually) could leave you back at square one. And even beyond finding someone qualified, what you're really seeking is a new member of your team, someone who will have a positive impact on the overall dynamic, contribute to the goals of the company, and take pride in the work he/she does for you. Luckily, there are ways to determine if a candidate for employment is a good fit for your company. Here are some tips to help you skip missteps and hire the right people from the get-go.
1. Pay attention to what candidates ask. Sometimes the questions an applicant asks are just as important as the ones they answer. If a potential hire asks no questions at all, it can signal a lack of interest in the job or the business, or else a personality type that is simply not proactive. You might not want either sort in your organization. If, however, they seem to have done some research on your company and they have plenty of questions about the job, the company, and the industry, there's a better chance they are going to be assets to your corporation.
2. Watch for people skills. Not all positions require a candidate to work with the public or even interface with clients. And you're bound to run into plenty of applicants who are nervous during the interview. But whoever you hire is going to have to get along with coworkers and supervisors, at the very least, so you'll want someone who is personable and well-spoken (especially in positions that require an employee to represent the company in some way). A simple test is whether they look you in the eye, smile, and shake your hand, since the average job-seeker is well aware of these social conventions.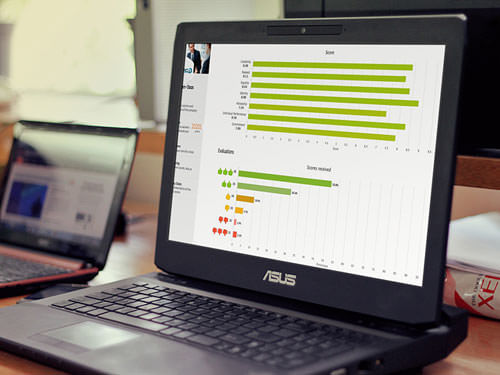 Working on improving employee engagement?
EPIC is an Employee Engagement software that gives you the tools and insights to create a workplace culture that encourages engagement, loyalty, and trust.
3. Perform assessment tests. If you think hiring new employees is nothing more than a crap-shoot, think again. There are now companies offering online tests that can psychologically profile applicants, based on their answers to a series of questions, in order to determine if they're a good fit for your business.
4. Check references. Although most applicants choose people who will give them good references, you can take your search a step further by calling previous employers and learning institutions to ensure that information is accurate. Businesses and schools are legally limited in terms of the information they can give, but sometimes it's more important how they say things rather than what they say. You just never know what might give you a clue about the suitability of a potential employee, so it pays to do your homework.
5. Do background checks. You can always do a free background check online to look for a criminal record, but there are actually a lot more ways to assess a person's background these days. For example, you could see if candidates engage in social networking. You'd be surprised by how many people become completely uninhibited through social media, giving you a lot more information on their personal history and content of character than you could find on a piece of paper. You may also want to do a Google search. You might not come up with anything, but then again you might.
The following two tabs change content below.
Elizabeth Retton
Guest Post:
Elizabeth Retton writes for Free Background Check where you can find background information people and businesses.
Latest posts by Elizabeth Retton (see all)