You want to tell the truth, but sometimes the truth is hard. What do you do when you need to write an honest employee performance review, good or bad?
Importance of Honesty
Writing an accurate appraisal can be difficult. Some employees are easily offended, others become enraged at low scores or final warnings, and both managers and workers can feel awkward giving/receiving praise and punishment.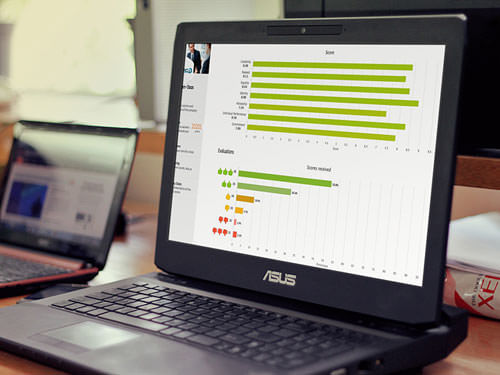 Working on improving employee engagement?
EPIC is an Employee Engagement software that gives you the tools and insights to create a workplace culture that encourages engagement, loyalty, and trust.
Keep in mind, however, that the employee performance review is a gateway to other organizational processes:
A good review can reward an undeserving individual with new work assignments, raises, and promotions; an overly critical review can send employees through disciplinary actions or encourage them to look for employment elsewhere.
Sugar-coated reviews may restrict access to training, counseling, and other opportunities for improvement. The employee may leave without understanding his shortcomings or how he can take corrective actions before the next appraisal.
Performance appraisals are a permanent part of the employee's record. Ambiguous or hasty comments can follow that person into the next position.
Inaccuracies open up lawsuits, including allegations of discrimination.
Tips for Writing Accurate Reviews
By following a few tips, you can relieve the pressure of writing accurate employee performance reviews. You are advised to:
Keep notes throughout the review period, both good and bad. A review should provide feedback about a person's performance over the long run, not just the past few weeks.
Provide frequent feedback throughout the review period. Do not let employees think they are doing a good job and then reveal the truth during the official meeting.
Decide what you are going to say before the meeting. Create a list of strengths and weaknesses and opportunities to improve both. Think about possible objections and how you will handle them.
Stick to the facts. Talk about company goals and how the performance objectives fit into the big picture. Provide concrete examples of the worker's actions. Avoid generalizations such as "you're a hard worker" or "you're always late."
Lead with accomplishments and positive statements. Tell the worker what you appreciate and why.
Create a conversation. Ask questions to ensure the employee understands the feedback being given. Be open to discussing on-topic subjects and the next steps.
Keep the process consistent for all members of your team.
If you still feel uncomfortable, ask your manager to look over your employee performance review plans beforehand. Only patience and practice can make the activity easier.
The following two tabs change content below.
Get more tips on interviewing, hiring, managing and engaging your employees. Dianne Shaddock is the President of Easy Small Business HR, Employee Hiring and Managing Tips and the author of the eGuides, "How To Supervise:  What Your Boss Never Told You Before You Took the Job", A Step-By-Step Guide For New and Seasoned Managers and "How To Find and Hire the Best Employees".
Latest posts by Dianne Shaddock (see all)