For hiring managers and human resource departments, background checks can be an important part of choosing the best candidate for an open position. The standard background check includes items like driving and financial records, employment history and personal references. But as digital interactions become more common, social media gives hiring  managers and HR professionals another portion of candidates' lives to search. Blogs, social networks like Facebook and Twitter, and other online activities can paint a more detailed picture of a person, for better or worse. And a person's online activities can be a clear indicator of what kind of employee he or she will be.
The question hiring managers and HR professionals face now is how—and whether—to perform online background checks on job candidates. There are instances in which an online background check can be very helpful; but there is a fine line between exploring a person's virtual life and prying. The position, the candidate, and the company are all factors in the practicality of online background checks.
The internet and the workplace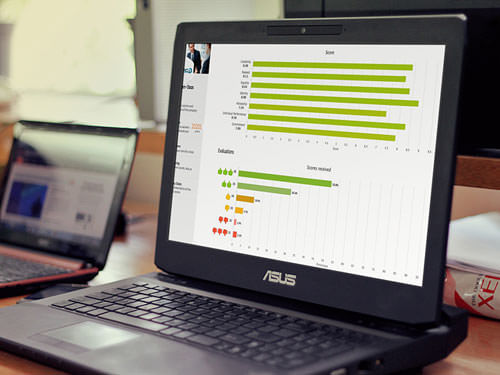 Working on improving employee engagement?
EPIC is an Employee Engagement software that gives you the tools and insights to create a workplace culture that encourages engagement, loyalty, and trust.
As the Internet becomes a primary means of communication, it's also becoming an integral part of the workplace. For jobs that involve online interaction with customers, companies have begun to look for candidates with an established social media or online presence: employees who know how to leverage their online connections can represent a company positively. Conversely, a job candidate with weak or questionable online interactions could put a company in a negative light.
For less Internet-centered jobs, an online background check may not be as valuable. Using a candidate's Facebook page or Twitter stream might provide an idea of his politics or entertainment obsessions; but unless the account is used for professional purposes, they will offer little about his work ethic or habits.
Performing the online background check
Gizmodo recently posted an article about a company called Social Intelligence, which performs social media background checks on potential job candidates. The writer of the article managed to fail his own background check spectacularly, but that's not the real story: it's how effective social media background checks can—or can't—be. By relying on the information provided by the job candidate, online background searches are entirely dependent on what the candidate decides to reveal. Many people maintain more than one social media account—for instance, many people have several e-mail accounts or a public and private Facebook account—so there's always the chance that unless a candidate provides every online account he owns, a company won't get the whole picture of his online background.
Further details like marital status, photos that can identify race or gender, and other information is blocked for legal reasons. If a company decides to do an online background search by hand, it's imperative that they stay away from using information regarding race, gender, marital status, and other protected information in their decisions to hire a candidate. Fortunately, with the advent of professional social networks like LinkedIn and Monster's BeKnown, candidates are making the Internet their main job searching tool. Companies would be better served by using the information available on sites like these to find and evaluate potential candidates.
The Internet is making it easy to find anyone, anywhere; for hiring managers, however, this can be a tempting and potentially risky prospect. While many job candidates now have traceable online histories, not all of those details can—or should—be used to determine the ability of a candidate to be successful at a job. Being mindful of your state's privacy laws, as well as the time and effort to perform a full background check, can help determine how useful a candidate's online history will be.
The online world has become a fundamental part of the workplace, but the same rules still apply when it comes to background checks.
The following two tabs change content below.
Get more tips on interviewing, hiring, managing and engaging your employees. Dianne Shaddock is the President of Easy Small Business HR, Employee Hiring and Managing Tips and the author of the eGuides, "How To Supervise:  What Your Boss Never Told You Before You Took the Job", A Step-By-Step Guide For New and Seasoned Managers and "How To Find and Hire the Best Employees".
Latest posts by Dianne Shaddock (see all)