One of the most popular searches on Google is the phrase, "How to interview" with over 550,000 monthly searches!
Managers and job applicants alike are looking for tips on how to interview better.
If you are a hiring manager with a job opening, the interview process is a responsibility that you don't want to leave to chance. You need to find the right person for your job without second guessing your decision.
Here are three suggestions that will help you to prepare for the interview: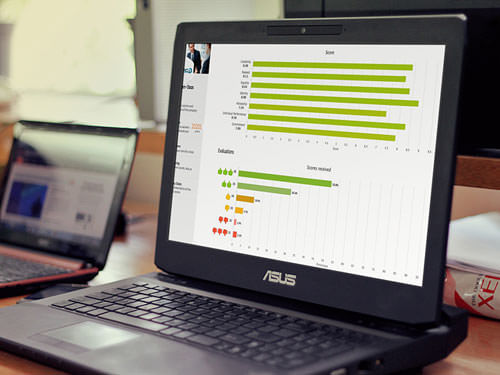 Working on improving employee engagement?
EPIC is an Employee Engagement software that gives you the tools and insights to create a workplace culture that encourages engagement, loyalty, and trust.
Interview Tip # 1: Take the time to prepare for your job applicant interview.
It's not enough to just review a résumé or job application and ask questions on the fly. You need to understand the core function of the job that you are hiring for. It's critical that you are clear on the type and level of experience as well as the depth of experience that your candidate will need to have in order to ask the best interview questions and get the answers that will help you to make better hiring decisions.
You're literally flying blind when you don't take the time to give some thought to what the skills and experience your job applicant will need in order to be successful in the job.
Interview Tip # 2: Create a job description in advance of your interview.
Yes, you are the supervisor, and it stands to reason that you know everything that there is to know about the job that you are hiring for. Yet, it's easy to hire someone whom you thought was an exceptional candidate, only to learn that the job applicant did not possess a particular skill set, or that they don't have the depth of experience that you really needed for your position.
Although it may not seem so, writing a job description is a simple exercise. You can start by making a laundry list of tasks that you'd like for your employee to be able to complete in order to accomplish your business goals. Whittle down your list even further by focusing on the work that your new employee will perform on a daily or weekly basis.
Your final job description should include just the core tasks that your employee will be responsible for. Everything else will fall under "related duties as required". Use your completed job description to develop your interview questions.
Interview Tip # 3: Develop your interview questions prior to meeting with your job candidate.
You can't make an accurate determination of whether your job applicant really has the skills and experience needed for your job if you don't ask the right questions.
Use your job description as the blueprint for developing your interview questions as opposed to relying only on those questions that may occur to you during your interview.
Your interview questions should be laser focused so that you can learn from your applicant if they have the skills that are needed to accomplish your goals for the position.
Part II of this series focuses on three tips to follow during and after the interview process.
A great reference guide for hiring managers is the book: Recruiting, Interviewing, Selecting & Orienting New Employees
No stuffy, corporate HR policy lingo; but straight forward, easy to understand and implement advice for businesses just like yours. Stay ahead of the curve and bookmark Easy Small Business HR.

The following two tabs change content below.
Get more tips on interviewing, hiring, managing and engaging your employees. Dianne Shaddock is the President of Easy Small Business HR, Employee Hiring and Managing Tips and the author of the eGuides, "How To Supervise:  What Your Boss Never Told You Before You Took the Job", A Step-By-Step Guide For New and Seasoned Managers and "How To Find and Hire the Best Employees".
Latest posts by Dianne Shaddock (see all)