Transcript of ESBHR Podcast 13: Checking Telephone References Versus Written References
Listen to the audio.
It's the first day of August as of the taping of this episode, and I'm preparing for a family reunion that we're hosting in Massachusetts this year.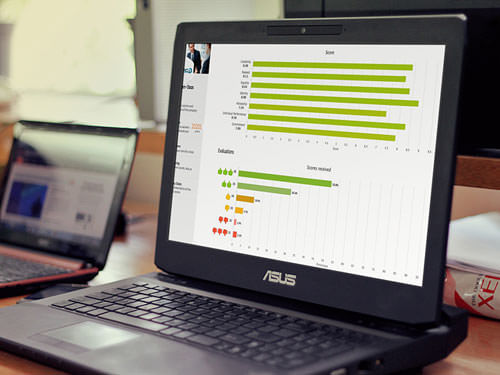 Working on improving employee engagement?
EPIC is an Employee Engagement software that gives you the tools and insights to create a workplace culture that encourages engagement, loyalty, and trust.
I also have several house guests, including my 8 year old niece and her Dad who flew over from Iceland to participate in the reunion.
I promised my niece that I'd play with water balloons with her as soon as I'm done recording this podcast, and although I told her that I need some quite time, she's a bit anxious for me to come out and play!
My niece is making sure that I get some work/life balance today!
So, I'll jump right in with a few helpful tips on the pros and cons of telephone versus written references starting with telephone references:
Telephone Reference Pros:
1. You are able to ask very direct questions and listen to and more fully assess the references' responses to your questions. You can really learn a lot by listening to a person's tone that you would never be aware of if you are reviewing a written reference.
2. You are able to ask follow up questions based on those responses that you may never have thought of asking before that will give you additional insight into your job candidate.
3. When speaking to someone on the phone, you can build a rapport with them; even in a short period of time.
4. You often obtain more detail when speaking to someone on the phone.
Telephone Reference Cons:
1. It's oftentimes hard to reach people by phone. Phone calls from strangers are sometimes seen as an interruption at best.
2. If you are calling someone in a different time zone, finding a time to speak to each other can present a challenge.
3. There is no real way to verify that the person you are speaking with is really who they say that they are.
Now, onto the pros of Written References:
Written Reference Pros:
1. Many job applicants often have written references already prepared in advance of the interview so you are able to get some insight into the applicant early on in the process.
2. Many written references are often full of detailed information about the applicant.
Written References Cons:
1. Written references become dated very quickly and many candidates don't obtain updated written references.
2. There may not be a way to verify that the reference is who they say that they are without calling to verify that person's name and position within the company. You still have to trust that the person is who they say that they are, similar to telephone references.
In general, my preference is for telephone references. I find that it is easier to verify that I'm placing a call with a legitimate company and, I have an opportunity to ask follow up questions, as well as listen to the reference givers' vocal expression's during the call. I find being able to do this extremely helpful.
It doesn't mean that you shouldn't accept written references, but you should insist that any written references be recent, and you should verify the references with a follow up phone call. Most written references provide a telephone number encouraging people to call with any additional questions.
That's it for today!
I'd really appreciate it if you found this podcast and others in the series helpful if you'd give me some feedback!
Feel free to send your feedback to : [email protected].
You can also leave comments or testimonials on the easysmallbusinesshr.com website, or at iTunes at http://bit.ly/ratehr.
It's time for my water balloon fight! Have a great day everybody!
The following two tabs change content below.
Get more tips on interviewing, hiring, managing and engaging your employees. Dianne Shaddock is the President of Easy Small Business HR, Employee Hiring and Managing Tips and the author of the eGuides, "How To Supervise:  What Your Boss Never Told You Before You Took the Job", A Step-By-Step Guide For New and Seasoned Managers and "How To Find and Hire the Best Employees".
Latest posts by Dianne Shaddock (see all)