Transcript of ESBHR Podcast 19: 6 Tips for Determining a Fair Hiring Salary
Listen to the audio.
Has this happened to you: you hire a great employee, invest time, energy and company resources into training, only to learn that your employee has found another opportunity after less than one year?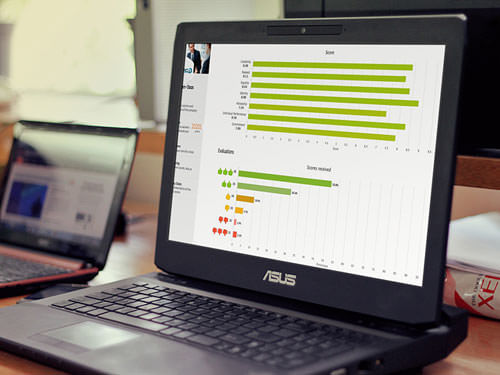 Working on improving employee engagement?
EPIC is an Employee Engagement software that gives you the tools and insights to create a workplace culture that encourages engagement, loyalty, and trust.
Are there ways that you can be proactive and reduce staff turnover? Some managers think that they know what their employees want. You may be surprised to find that it's not always what you think.
Company growth and profits are important. But don't let the bottom line deter you from focusing on employee satisfaction, which in turn will mitigate turnover.
Running a successful business takes a lot of effort and work hours. But every time one of your employees leaves,  the time and money that you have invested in his or her training costs you not only financially, but in lost productivity.
Follow these tips to reduce turnover and increase your employee's job satisfaction:
Pay a Fair Salary
In this economy, salary can be a determining factor as to whether an employee decides to stay or leave your organization so make sure that you offer a fair and competitive salary. Don't ever pay your employees a lower salary than what is appropriate for the type of work that they perform. Paying employees at a salary rate that is artificially low for the work that they perform is one of the best way to ensure that they are spending their free time looking for another job.
Provide Ongoing Feedback
To produce a high-performing employee, it is important to give the employee clear and direct feedback on their work and to offer constructive criticism.  Work with your employees on helping them to do their jobs better.
Does a Bonus Make Sense?
Does a small bonus once a project is completed, or at the end of the fiscal year make sense for your organization? It's an option, but don't think that this is the only way to show employee appreciation.  Bonuses, even a modest one can be a small part of an overall retention strategy.
Employee Recognition
Recognizing employees with some type of award such as "Employee of the Month" , or sending an email to the community acknowledging an employees efforts can go a long way towards reducing turnover and increasing overall job satisfaction.
Employees want to know that you appreciate them and that they are recognized for their work.
Work life Balance
Work life balance is high on the list of employee retention strategies for any business.  If it fits with your business strategy,  think about offering a work-at-home schedule for part of the work week, or a flexible work schedule that allows your employees to come into the office later in the morning, but work later in the day.  Helping employees to balance their work and home life are critical to employee retention.
Getting the work done is critical, so it's easy to look the other way when your employees are working 60 hours weeks on a  40 hour salary.  But remember,  an overworked employee is not productive.  Employees who are overworked and burnt out often have excessive time off, including increased sick time which not only decreases productivity, but effects your bottom line.
Employee appreciation comes in so many forms.  Make sure that your employees know that you are aware of the work that they do daily for you, and that you value them.  It will do wonders for not only employee satisfaction, but employee retention.
The following two tabs change content below.
Get more tips on interviewing, hiring, managing and engaging your employees. Dianne Shaddock is the President of Easy Small Business HR, Employee Hiring and Managing Tips and the author of the eGuides, "How To Supervise:  What Your Boss Never Told You Before You Took the Job", A Step-By-Step Guide For New and Seasoned Managers and "How To Find and Hire the Best Employees".
Latest posts by Dianne Shaddock (see all)