If you've been carrying out the same old employee evaluations year after year and haven't achieved the desired results, it is time to change things up. Evaluating employees is not an enviable task. Feelings can get hurt. Critical evaluations can cause employees who feel unappreciated to search for new positions. Numerous studies have shown that employees who have some control over their evaluations and the evaluation process itself feel more valued in the workplace. It makes a big difference to employees when they feel as though they are actually engaged in the review process. Instead of feeling helpless and at the mercy of their supervisor or human resources manager, they feel empowered and respected.
A Dialogue Instead Of A Monologue:
While you might be hesitant to break tradition and relinquish control of employee evaluations, doing so can reap significant benefits. Times are changing. Human resources administrators are quickly learning that employees want a voice during their feedback sessions and many want to actually shape the review process itself. The days of sitting down, one-on-one with an employee and rattling of his strengths and weaknesses along with a series of scripted questions will soon be ancient history. This does not mean that new age employee evaluations have to be completely spontaneous. Rather, they should be inclusive instead of administered from the top down. You can still steer the review process but your employees will appreciate a bit of control over how their feedback is administered.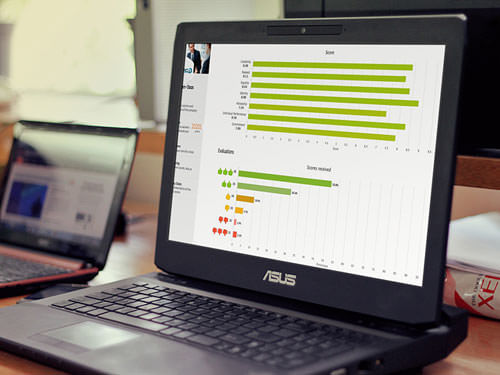 Working on improving employee engagement?
EPIC is an Employee Engagement software that gives you the tools and insights to create a workplace culture that encourages engagement, loyalty, and trust.
Employees Can Provide Valuable Insight:
Managers should attempt to cede some control to the employees who are being critiqued through the use of a dialogue. It's a lot less stressful on the employee's behalf when he can speak his mind and offer a defense for his actions. Consider allowing an employee to review himself before you offer your own thoughts or pose any questions. He might present some facts or opinions that you had not considered before. If you'd prefer to avoid potentially long monologues in which your employees review their performances, opt for something in writing. You can provide your employees with a form that allows them to choose multiple choice answers. Or, e-mail them a series of questions before the review.
Even if your employees don't provide unique insights, you'll have their full attention by letting them perform a self-review before you speak. An employee who is allowed to present a self-review to his superiors will be very keen on the ensuing response. He'll be much more willing to listen closely to the words of his supervisors and incorporate the feedback into his work.
After you've provided your employee with the chance to judge his own performance, it is time for you to provide your own feedback. Be sure to include some of the employee's thoughts into your response to show that you were listening. You might even have to amend your response based on the content of the employee's self-review. After you've said your piece, it is time for a dialogue. Let the employee respond to your statements. Your ensuing conversation will prove critical to the employee's development.
A Collaborative Plan Of Action:
Once you've discussed the employee's performance, it is time to plan for the future. It is imperative that you involve the employee in this planning process as well. Instead of providing him with a series of goals and directions to improve his workplace performance, collaborate with him and his immediate supervisor to create realistic expectations. It is helpful to let the employee begin this planning process. He is the one who has to make the changes so he should spearhead the action process. You can let him speak on his plans for improvement after considering the feedback that you just provided. Or, give him some time to craft a plan of action on paper and present it to you and his immediate supervisor in a follow-up meeting.
Employee Engagement Improves Retention:
Even if you end up overriding most of your employees' ideas, they'll feel respected and empowered simply based on the fact that you gave them the chance to voice their opinions. When employees feel like they have at least a bit of control over the feedback process, they feel appreciated and the organization's retention rate simultaneously improves. While the workplace might not ever be a democracy, everyone feels as though they deserve to have a voice. So let them speak and give a good listen. Even if you don't implement their feedback, you'll have created the impression that their thoughts and feelings really do matter.
This article has been submitted by the team at Grapevine Evaluations. Grapevine is a web based tool designed for HR departments to easily create, manage and distribute online 360 employee evaluations for any sized organization.