The holiday season is here, which means a busy time of the year for many businesses. Between the retail craze of Black Friday and the celebratory rush of the end of the year, every industry from retail to freight delivery to travel gets hit by an army of customers and an overtime workload. The solution for many of these industries is to hire seasonal workers, part-time or temporary employees who will be able to take on hours throughout the holiday season and reduce the stress and workload for everyone else. From extra cashiers to Santa actors, holiday hires have become an annual tradition for many companies.
Should I Run Background Checks?
The question that many employers ask about these holiday hires is this: what kind of background screening policies should be put in place for seasonal workers? Should they be subject to the same in-depth screenings as the more permanent full-time members of your staff? Or can you get away with cheaper and less thorough background checks? After all, these employees are temporary hires: how much damage can they possibly do?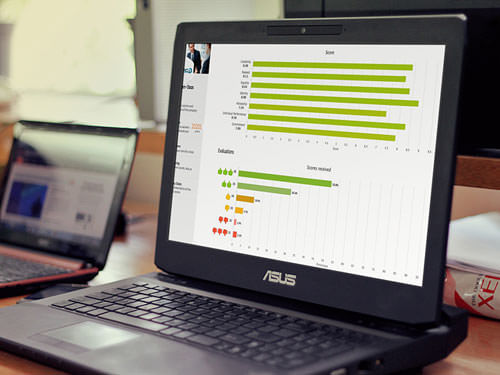 Working on improving employee engagement?
EPIC is an Employee Engagement software that gives you the tools and insights to create a workplace culture that encourages engagement, loyalty, and trust.
Quite a lot, actually. What if you hire a sex offender for a Santa actor position and he ends up molesting a child? What if you hire a person with three DUIs to drive a delivery truck, only to deal with the fallout from a car accident that kills an entire family on Christmas Eve? The length or brevity of an employee's stay at your company has no bearing on the importance of background checks. A single incident can still cause irreparable damage to your company's reputation, or even bring about costly lawsuits, and that incident can indeed happen during the two-month employment window that is populated by holiday workers.
So, in a word, yes: you should run background checks on each and every one of your seasonal employees. Doing so might be a costly, convoluted, and time-consuming effort, but consider this: Amazon.com hires tens of thousands of holiday workers every year to help with extra demand, and every single one of them gets a background check. Just be thankful that you only have to run checks on 10, 20, or 30 seasonal workers instead of 80,000.
Which Checks Should I Run?
This question is tougher to answer than the first one, since it really depends on what sort of job the seasonal worker will be performing. As a general rule, always run criminal history checks (preferably nationwide) and sex offender registry checks. These are screening types that can be applied to virtually any job, whether the worker in question will be working in the stockroom or helping customers.
Beyond these checks, just consider the duties at hand for the seasonal job. Is it a position that involves driving a delivery truck? If so, a driving record background check is essential: you need to know if your worker is a responsible and safe driver, or if they are someone who has been cited for reckless driving, drunk driving, or other red flag offenses.
Similarly, you might run a credit history check on someone in charge of handling money or running a cash register, or a drug test on someone in charge of operating heavy machinery. Just make sure you are running checks that make sense for the positions you need to fill. You don't want to miss anything in a person's past that might make them an unsuitable employee, but you also don't want to pay extra to collect information that isn't at all relevant to their ability to perform the job at hand. Be strategic and smart with which checks you choose to run.
What are the benefits of running background checks on seasonal workers?
The holidays are a busy time, and they can be especially stressful for a business owner. When you have to worry about inventory, tons of customers, and time off requests, one thing you absolutely shouldn't have to worry about is whether you can trust your workers. You shouldn't have to worry that one of your retail specialists is going to respond to a rude customer with violence, or that an employee might be stealing items from around your store or business. The biggest benefit of running background checks on season workers is that it gives you peace of mind that your employees are people you can trust.
Another benefit, though, is that background checks can help you find people who could fit into your organization on a more long-term and permanent basis. It's not uncommon for longtime employees to wait until shortly after the holiday season, and then depart in search of a new career endeavor. If that happens, you might be able to avoid the costs and stresses of a full candidate search by simply hiring a seasonal worker to replace the old employee. If you have a number of qualified and hard-working holiday workers who have already been validated by background checks, then they can make very strong permanent employees.
Use the Interview to Your Advantage
When you are screening seasonable employees, background checks are a great way to weed out the bad apples and build a temporary staff you can trust. However, remember that you can't learn everything from background checks. The job interview is still a very important part of the process, even if you don't plan on keeping an employee around on a permanent basis.
The difference is, for seasonal employees, you might be looking for attitude and rapport as much as you are looking for job qualifications. Most temporary jobs around the holidays don't demand a hugely impressive resume. What they do require is friendliness, cheer, and charm. You need to hire seasonal workers who are going to be able to be pleasant to customers, even under the most stressful of circumstances. So in addition to using background checks to look for people who are trustworthy and safe, use interviews to find people who are charismatic and helpful. These employees will impress customers and improve your business's overall image and reputation. What could be a better holiday gift than that?
The following two tabs change content below.
Guest Author:
Michael Klazema has been developing products for pre-employment screening and improving online customer experiences in the background screening industry since 2009. He is the lead author and editor for a background check company. He lives in Dallas, TX with his family and enjoys the rich culinary histories of various old and new world countries.
Latest posts by Michael Klazema (see all)