Dating website EHarmony plans to leverage its online matchmaking skills in the careers marketplace. Starting this December, the company will offer a new platform called Elevated Careers by EHarmony for matching job seekers with their future bosses. The platform will use many of the same algorithms and compatibility assessment tools that EHarmony relies on to match couples, to help job seekers find employment at companies where they really belong.
According to EHarmony, the new service will use several different criteria to try and match applicants with the most compatible employers.
For example, if an applicant is interested in a specific position at a company, EHarmony will consider factors like the skills required for the job and company culture to determine if the job is really a fit for the employment seeker. As part of the evaluation, EHarmony will also consider the personality traits of the position's direct supervisors as well as the traits of people the job seeker is likely to work with on a daily basis to determine if the job is suitable.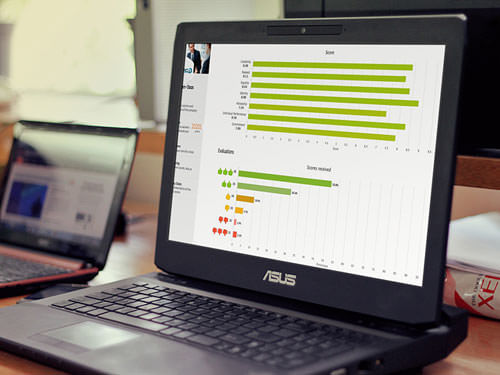 Working on improving employee engagement?
EPIC is an Employee Engagement software that gives you the tools and insights to create a workplace culture that encourages engagement, loyalty, and trust.
To do all of this matching, EHarmony will require employers and job seekers to fill out in-depth evaluation forms containing between 100 to 200 questions. The company will also use some of the same compatibility tests that it uses on its matchmaking site to evaluate job seekers for specific positions.
According to EHarmony, its Elevated Careers platform will help employers significantly cut down on the amount of money they spend finding the right job candidates. The service will also help companies find employees who are likely to stay longer, be happier and work more productively than employees recruited through the usual hiring process. All of these are hugely important considerations for companies.
A recent survey of 3,500 employed persons by Harris Interactive and CareerBuilder.com shows that just 54 percent of workers are happy with their jobs while less than 1 in 3 feel their work is valued. More than 21 percent of those surveyed planned on finding a new job in the next 12 months because they were dissatisfied or unhappy with their present job.
The move into the employment marketplace is part of a bid by EHarmony to diversify its revenue stream. Since launching in August 2000, the privately held company has grown to become one of the largest players in the U.S. dating services market. More than 600,000 couples worldwide have married after first meeting each other through EHarmony. Less than 3.8 percent of them have divorced so far underscoring just how accurate EHarmony's matchmaking skills have been over the years.
What remains to be seen is how well the company will be able to parlay that success in the employment market.
Additional source:
CareerBuilder/Harris Interactive survey:
http://www.careerbuilder.com/share/aboutus/pressreleasesdetail.aspx?sd=1%2F9%2F2014&id=pr797&ed=12%2F31%2F2014
The following two tabs change content below.
Get more tips on interviewing, hiring, managing and engaging your employees. Dianne Shaddock is the President of Easy Small Business HR, Employee Hiring and Managing Tips and the author of the eGuides, "How To Supervise:  What Your Boss Never Told You Before You Took the Job", A Step-By-Step Guide For New and Seasoned Managers and "How To Find and Hire the Best Employees".
Latest posts by Dianne Shaddock (see all)