As a hiring manager, you already know that finding and hiring the right person for your job opening is critical to your success and the prosperity of your business. You also know that the role of supervisor is by no means easy and that the road can be a bumpy one once you have your staff in place.
Managing employees from different backgrounds and with various skill sets and personalities is not as straightforward as it seems.
In an effort to mitigate any perceived issues post hire, hiring managers have a tendency to make hiring decisions based on "fit" when work experience is considered equal. Others make an assumption during the interview process about which candidates will be easier to work with and manage without any real evidence to prove otherwise. You may even be a hiring manager who bases your hiring decisions primarily on your own personal comfort level with an applicant or on your "gut" feelings about a job candidate.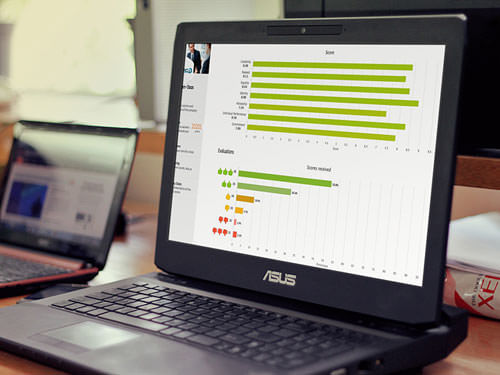 Working on improving employee engagement?
EPIC is an Employee Engagement software that gives you the tools and insights to create a workplace culture that encourages engagement, loyalty, and trust.
Just relying on instinct, or fit when hiring staff almost always backfires; especially when you don't take the time to fully assess whether your candidate of choice is capable of doing the job. It is paramount that every hiring manager truly understands not only how to hire the right person for the job, but why it is important.
First step: Take your emotions out of the equation; or at least be conscious of the fact that gut feeling should not be used as the deciding factor when making hiring decisions.
Of course finding employees who are a fit with you and your team and who have the skills that you need is essential; but employers run head first into sticky issues when an applicants' "fit" carries more weight than the experience that they bring to the table. Gut feeling hiring may also have an unintentional negative impact on job candidates who may not fit a preconceived mold of the ideal candidate and that sometimes means older candidates, disabled candidates, women, and candidates of color are the candidates who are least likely to be hired despite their experience.
At best, you may learn that your "perfect" employee really is not a good fit isn't. At worst, you open yourself up to perceptions of discriminatory hiring practices when you disregard job related experience over "fit".
Tips that will help you to hire the right people the first time:
First and foremost, you top candidates should have the skills that you need for the job.
Any written references to the job, (via your company website, job posting boards and the job description), should clearly outline the exact experience and skills need for the role. This includes hard skills such as "5 years of experience in accounting" to soft skills such as "must be a team player".
The job description and job posting is viewed as an official document. Stick to the job requirements in the job description when considering which candidates are best qualified for the role that you want to fill. Hiring managers invite trouble when they post a job asking for " 5 years of accounting experience" but end up hiring someone with 2 years of accounting experience.
The right employee should be as committed to the organization as you are. Listen for comments and questions that show a real interest in both the job and your company.
Always check supervisory references and skip references from friends and co-workers.
Once you have made your hiring decision and your new employee starts, make sure that you orient them regardless of their level of experience.
A simple orientation and onboarding is a must for all new hires but you may also need to have a more robust new employee training process in place for more junior staff.
Get additional step by step tips and resources in the guide: How To Find and Hire The Best Employees – A Step-By-Step Employee Hiring Guide.
The following two tabs change content below.
Get more tips on interviewing, hiring, managing and engaging your employees. Dianne Shaddock is the President of Easy Small Business HR, Employee Hiring and Managing Tips and the author of the eGuides, "How To Supervise:  What Your Boss Never Told You Before You Took the Job", A Step-By-Step Guide For New and Seasoned Managers and "How To Find and Hire the Best Employees".
Latest posts by Dianne Shaddock (see all)