Employers need to be cautious about using social media sites such as Facebook and LinkedIn for screening job applicants during the hiring process.
A recent study by researchers at Carnegie Mellon University shows that hiring managers sometimes use information obtained from such sites in ways that may not always be legally permissible under federal anti-discrimination laws.
The study is important at a time when a growing number of employers admit to using information obtained from social media sites to vet job applicants. In a survey of about 1,000 hiring managers by EmployeeScreenIQ, more than one-third said they looked at social media data when making decisions about potential job candidates. Most employers claim they typically search social media sites to see if job candidates they are interested in have engaged in unprofessional behavior in the past, or have complained about past employers, or hinted about drug or alcohol abuse. The Carnegie Mellon study however suggests that some hiring managers, either consciously or unconsciously, may be using information obtained from social media sites to illegally discriminate against job seekers.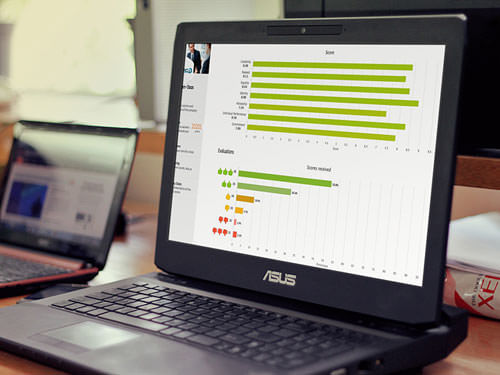 Working on improving employee engagement?
EPIC is an Employee Engagement software that gives you the tools and insights to create a workplace culture that encourages engagement, loyalty, and trust.
For the study, the researchers sent out 4,000 fake resumes to private companies around the country that had advertised open job positions. The fake resumes belonged to four fictitious characters with names so unique that anyone doing a search on the Web for them would almost certainly be directed to fake LinkedIn and Facebook pages linked to each of the four names. The social media profiles were crafted in such away as to provide subtle hints about each fake character's religious background, sexual orientation, race and other personal information.
The study showed clearly that people whose social media profiles indicated they were Muslims, tended to get fewer calls for interviews than other candidates. The disparity was especially significant in states where people identified themselves as being conservative or very conservative during the 2012 elections. Similarly, employers sometimes tended to use clues about an individual's sexuality, race and religious preferences to make interview decisions.
Federal employment laws explicitly prohibit employers from such behavior. A hiring manager cannot ask a job seeker questions about religious background, gender identity, sexual orientation, race, disabilities and other personal issues. Similarly, employers cannot use any of these factors in determining a job seeker's suitability for employment. However, such information is often readily available on social media sites because of the tendency by Internet users to post a lot of personal data online. Employers that want to avoid running afoul of anti-discrimination statutes need to be careful about filtering out such information and in ensuring that they are only reviewing information that is legally permissible for them to use in the hiring process.
The following two tabs change content below.
Get more tips on interviewing, hiring, managing and engaging your employees. Dianne Shaddock is the President of Easy Small Business HR, Employee Hiring and Managing Tips and the author of the eGuides, "How To Supervise:  What Your Boss Never Told You Before You Took the Job", A Step-By-Step Guide For New and Seasoned Managers and "How To Find and Hire the Best Employees".
Latest posts by Dianne Shaddock (see all)