Employees are feeling the pinch of the double-dip recession, putting in longer hours and skipping lunches. However all of these extra hours are not making employees more productive; instead they are worn out and disillusioned by the mounting work. It's vital that you ensure that your employees'  health and wellbeing is a priority.
While salary, benefits and pensions are vital for long term engagement and retention, having a healthy work environment can help create better productivity, fewer absences and as a result of this, lower health insurance premiums for the company.
Healthy employees equals happy employees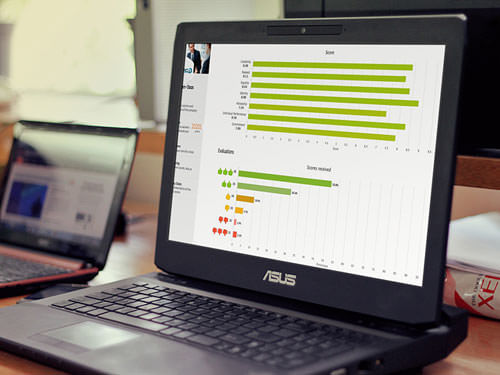 Working on improving employee engagement?
EPIC is an Employee Engagement software that gives you the tools and insights to create a workplace culture that encourages engagement, loyalty, and trust.
Studies show that sitting down at your desk all day can be detrimental to your health, even if you exercise at other times of the day.
Yet, your employee's health and well being should still be a priority. Encouraging your employees to take short breaks away from their desks, where they can stretch and recharge will help them focus on the task at hand.
Promoting healthy exercise and eating habits is also important to having a focused and motivated workforce. Replace 'cake Friday' with healthier snacks, start a running club or football team, and get your employers involved in an in-house exercise competition that promotes healthy practices. If you have a work culture where lots of people smoke, try offering incentives for people to quit. Both the company and the employees will feel the benefits of a healthier environment.
Companies that encourage employees to take the time off when they are sick, rather than showing up for work will also reap the benefits of a healthier work environment. While absence due to illness has seen a decrease, the cost of sickness is still impacting the workplace as presenteeism, which refers to employees that show up for work even when sick.  This effects productivity and may result in longer absences down the road.
Give employees more autonomy over how the work
Employees that work in a flexible work environment have higher office morale. By allowing employees to choose the time they start (i.e. 8-4 instead of 9-5) or allowing them to work occasionally from home, you are helping staff  to reduce stress levels; enabling employees to better juggle family and work responsibilities.
Taking proactive steps towards employee health and wellbeing helps to not only attract and retain hardworking employees but helps to increase productivity and profits.
The following two tabs change content below.
Get more tips on interviewing, hiring, managing and engaging your employees. Dianne Shaddock is the President of Easy Small Business HR, Employee Hiring and Managing Tips and the author of the eGuides, "How To Supervise:  What Your Boss Never Told You Before You Took the Job", A Step-By-Step Guide For New and Seasoned Managers and "How To Find and Hire the Best Employees".
Latest posts by Dianne Shaddock (see all)