Has social networking become your preferred resource for background checks? Even though looking through wall posts, tweets and photographs may be a cheap alternative to recruitment screening, this hiring practice can lead your small business into serious trouble. Before you ask a job applicant for a Facebook password, consider these pros and cons:
Why Request Facebook Passwords?
 1. You cannot obtain the information you want through the interview process.
Law enforcement agencies, government contractors and public safety companies are under pressure to screen for gang affiliations, terrorist cells and other underground connections. These personal links rarely come out during standard interviews, and talking to family and friends is costly. Facebook becomes an easier and less expensive way to review friend lists and connections.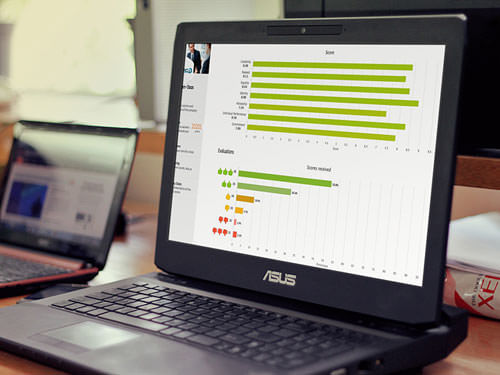 Working on improving employee engagement?
EPIC is an Employee Engagement software that gives you the tools and insights to create a workplace culture that encourages engagement, loyalty, and trust.
 2. You have spotted something suspicious on the public record.
Even without a person's social networking password, employers can gain incriminating details on the Internet. A simple Google search or LinkedIn check may be all the motivation you need to ask for more details.
 3. You're searching for that picture worth 1,000 words.
Group photos, status updates and check-ins can reveal an individual's personality, interests and ethics better than a formal questionnaire. You can also quickly screen for illegal activities.
Reasons to Remove Social Networking from Hiring Practices
1. You don't want to lose trust.
If you're asking candidates to release private information before they even work for you, they're going to wonder what you will demand after they're hired. You wouldn't ask for their car keys to search their trunks, so don't ask for their passwords to search their after-hours events.
 2. You don't want to risk a lawsuit.
Sites like Facebook and Twitter explicitly prohibit users from sharing their usernames and passwords. Violating these terms can lead you into legal trouble.
 3. You don't want to break the law.
Maryland, Illinois and California are just a few of the states that have already made or are attempting to make forced password release illegal. The U.S. Congress is debating the Password Protection Act and the Social Networking Online Protection Act to outlaw such practices nationwide.
Instead of risking your company's reputation and your employees' loyalty by asking for passwords, use proven hiring practices that are legal and effective. Probing interview questions, thorough background checks, well-structured reference checks and professional assistance can yield long-term employees without the legal fallout.
FREE Related Resources
Stay abreast of the latest legal challenges and issues that employers face with Legal Alert For Supervisors. Request your free newsletter
The following two tabs change content below.
Get more tips on interviewing, hiring, managing and engaging your employees. Dianne Shaddock is the President of Easy Small Business HR, Employee Hiring and Managing Tips and the author of the eGuides, "How To Supervise:  What Your Boss Never Told You Before You Took the Job", A Step-By-Step Guide For New and Seasoned Managers and "How To Find and Hire the Best Employees".
Latest posts by Dianne Shaddock (see all)