Looking for new ways to find and hire candidates?  Today's guest poster, Issac, shares some very interesting recruitment strategies from around the world:
Businesses are always looking for unique ways to attract the best candidates to their businesses. To get the cream of the crop these 10 businesses have shown their creativity.
1. A Napkin
BBDO Düsseldorf was struggling to find junior copywriters, despite their proximity to an important literature school.

A grand scheme was hatched.

The company produced napkins with specially printed messages that looked like doodles.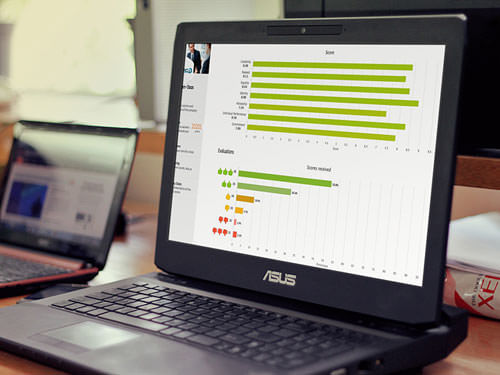 Working on improving employee engagement?
EPIC is an Employee Engagement software that gives you the tools and insights to create a workplace culture that encourages engagement, loyalty, and trust.
The napkins were placed in the school's cafeteria. The recruitment was successful when the company received 15 times the normal amount of applications. The great thing about the napkins was that they were so low priced to produce and part of the cost could be a tax write-off as a donation to the school.
2. A Noose
Want to steal your competitor's top people? Send them a noose in the mail. Include a note about why your company is a much better choice for their flourishing careers. That is exactly what the people at Ambition in Singapore did with amazing results. The noose looked like a tie, making it practical as well as thought provoking. Inspire your competitor's top people to see that you have a better workplace.
3. An iPod
Red 5 Studio needed to recruit 100 creative candidates. They looked for candidates that they loved because of their social media. They then sent each candidate a free iPod with a welcome message from the company's CEO. By incorporating social media into the campaign, the company was connecting with those who were in tune with current trends in the industry.
4. A Glass
Grand Café Restaurant Binnen in Scheveningen, The Haag, was continually short on dishwashers. Frustrated with this personnel issue, the high end restaurant had special glasses printed. The glasses had an imprint of red lipstick and the message that "Restaurant Binnen is looking for dishwashers." By looking to their current customers, the company was able to find people who already loved the culture of the company.
5. A Fly
Fbi Recruitment in Australia was having a huge problem recruiting direct marketers when they hit on a grand idea. They produced a sticker that looked like a fly. They then placed these flies in areas frequented by the public. These pesky flies brought many successful recruits to the company.
6. The Marketplace
Quicken Loans regularly encourages its recruiters to get out of their offices into the marketplace. Once in the marketplace, they look for employees with great personalities. They then interact with these employees, offering them interviews with their companies.
7. An Event
Attending an event where people in the field are hanging out can be a great recruitment strategy. Give away exciting products at this event. Inspire potential job hunters to see your company as an exciting place to work. People attending these events are already passionate about their work.
8. Manhole Covers
Manhole covers are often overlooked, but they can make a great recruitment technique. Place large signs on them and everyone will see the ad as they travel down the road. Looking for unusual ways to recruit encourages the most creative people to want to work at your company.
9. A Puzzle
The Dutch Secret Service mailed specially chosen candidates an envelope containing shredded paper. The candidate had to put the paper together which led them to a website. Once at the website, they had to debug the site. They were then given a code word to give during the interview. The process led the company to be able to recruit the most talented individuals in their field.
10. A Billboard
Billboards have long been used for recruitment. Consider placing a billboard containing a hidden message in front of your competitor's business. By hiding the message on the billboard, the recruiting company was able to generate positive buzz about their business.
These are great ways to recruit new employees for any business. Who would have ever thought a napkin, a fly, a manhole cover could be so useful? What great ideas do you have?
The following two tabs change content below.
Get more tips on interviewing, hiring, managing and engaging your employees. Dianne Shaddock is the President of Easy Small Business HR, Employee Hiring and Managing Tips and the author of the eGuides, "How To Supervise:  What Your Boss Never Told You Before You Took the Job", A Step-By-Step Guide For New and Seasoned Managers and "How To Find and Hire the Best Employees".
Latest posts by Dianne Shaddock (see all)