Reviewing healthcare benefits packages can be as much fun for your employees as having elective root canal surgery. Let's face it, the only time employees really show an interest in a benefits plan is when they are facing a major health crisis or about to pay for —surprise—medical services they thought were covered.
Small business owners don't have the time to explain these benefits again and again. We need to simplify the jargon and eliminate legalese. We have to make benefits communication clear and engaging. Despite these obvious statements, most benefits presentations end up being bland and confusing. Sheer employee boredom leads to a lack of attention and retention that, according to the American Medical Association, costs employers $73 billion on an annual basis due to "poor health literacy" and unnecessary health care expenditures. Poor health literacy leads to small businesses that have benefits education "drop-outs," or employees who fail to take advantage of merited privileges. So what's the secret to creating an engaged audience while explaining benefits in the era of short attention spans?
Glad you asked! Here are 10 easy steps that small businesses can use to successfully communicate a benefits package, and turn those employee "drop-outs" into graduates.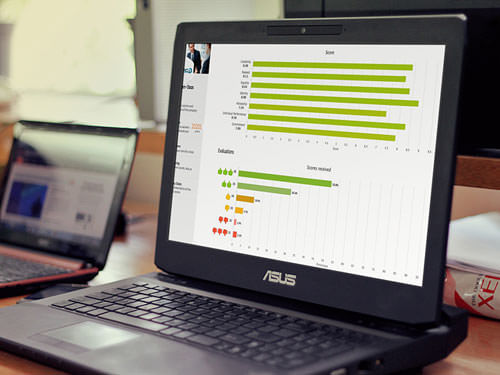 Working on improving employee engagement?
EPIC is an Employee Engagement software that gives you the tools and insights to create a workplace culture that encourages engagement, loyalty, and trust.
1. Communicate in plain language – not "insurance speak." This includes avoiding technical terms like, "eligible employee," and instead using natural terms. You know, the way you would talk to someone if she caught you in the lunch room and wanted to know who was eligible for your plan.
2. To go along with #1, think about having a real writer, not a lawyer or a broker, review your benefit materials. It's a small price to pay for a huge improvement in employee comprehension.
3. Consider offering one simple plan. Your HR would love you – and your employees will be happy and less confused. Multiple benefits plans, filled with all sorts of terms and conditions, only complicates life. In most cases, it's a recipe for total confusion and employee frustration. One plan = more efficient, and effective, communication.
4. If you feel like you need to offer multiple plans, then for heaven's sake, give your plans short names! Staring down at something with "Insurco Active Lifestyles High Deductible 2500 PPO Access Freedom Plus" is enough to send anyone into a panic. How about "PPO"? That's not so bad, is it? It's probably what your employees are calling the plan, anyway.
5. Avoid marathon enrollment meetings. Instead, schedule shorter, interest-specific meetings, such as sessions that cater to married groups or singles, which are better tailored to individual interests. Employees will get the information they need, and their eyes won't glaze over from listening to something that's in no way applicable to their situation.
6. Eliminate confusing numbers and charts – simplify the benefits communications by showing information one piece at a time: premiums for singles, premiums for families, you get the idea. Don't smash things together with slashes, either. It's guaranteed to trip someone up. Seriously, Stop/Mashing/Numbers/Together/With/Slashes.
7. If you have any kind of benefits communication budget, invest in an interactive tool to further simplify the benefits package. Make sure the tool is not only simple and easy to understand, but engaging. You don't want employees to be bored or confused. Make the tool available online – accessible anytime and from anywhere. Society has moved away from paper packets, and you, my friend, are savvy. Small businesses that give their people access to information, when they need it, will likely see fewer questions from frustrated employees.
8. During enrollment season, offer an email-based "help desk" with a designated overseer for more focused benefits questions. Nothing against phone-based help desks, if you can afford them. But an email help desk allows your employees to write at any time day or night (and your help desk staffers have the same flexibility). Although to make a help desk actually helpful, you want to offer 24 hour turn-around on answers.
9. Oh, and don't forget to collect feedback from the help desk to determine your employees' satisfaction – or dissatisfaction –regarding your benefits package. This type of direct polling will help your business adjust your benefits packages to better reflect employee interests.
10. Finally, make sure your documents pass the seventh-grade sniff test. If an actual seventh-grader doesn't understand your communication materials, chances are your employees will end up confused as well.
Bottom line for you as a small business owner: Your healthcare plan is a strong bargaining tool to attract and retain top talent. You invested a lot in it. Keep your benefits plan – and benefits communications – simple so employees can make informed decisions. Small businesses who follow these ten steps should realize decreased benefits plan communication costs as well as happier employees.
The following two tabs change content below.
Harry Gottlieb
Guest Post:
Harry Gottlieb is the founder of Jellyvision Lab, Inc., providers of ALEX™, the Jellyvision Benefits Counselor.
Latest posts by Harry Gottlieb (see all)