Looking for tips on how to deal with difficult employees? Whether you're charged with supervising a constantly late worker or a customer service rep with an unfriendly attitude, you know that problem employees take their toll on the business. Morale suffers. Productivity suffers. And, as a manager, you probably suffer, too. Check out this quick guide to how to deal with difficult employees:
1. Act. Some managers don't deal with problem employees, sparking a chain of events that can lower morale, destroy productivity, and make you seem like an ineffective supervisor. It's imperative for managers to take action.

2. Investigate. Is the employee really being difficult? An important rule when you're learning how to deal with difficult employees: if you haven't seen the behavior with your own eyes, investigate before taking action. You might find that the employee who accused a co-worker of being difficult was exaggerating the action. Alternately, you might discover there are outside circumstances that have triggered negative changes in the worker's behavior. No matter the reason, if the employee is being difficult in a measurable way, gather the data that supports it. For example, a sales professional with a suddenly poor attitude might have fewer repeat clients.
3. Approach. This may be a difficult conversation, so don't launch into small talk about the weather. Always state the issue in clear, unambiguous language that doesn't confuse the worker or sugarcoat the situation. If you've collected facts and data, share those as well. Always give the employee a chance to respond to the allegations.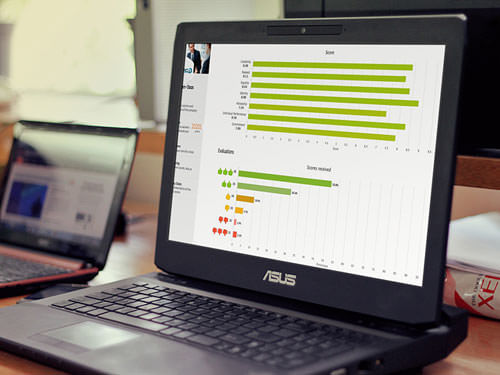 Working on improving employee engagement?
EPIC is an Employee Engagement software that gives you the tools and insights to create a workplace culture that encourages engagement, loyalty, and trust.
4. Support. One of the best strategies for learning how to deal with difficult employees is to actively support or coach the problem worker. For example, perhaps the employee needs help understanding what type of language is (and isn't) appropriate in the workplace. Or maybe a worker stressed by caring for an elderly parent would benefit from a flexible schedule that allows him to drive Dad to medical appointments. Working with the employee reduces the chance you'll need to resort to termination. And it may just lay the foundation for nurturing an enthusiastic, collaborative, and productive employee.
5. Document. Following the conversation, document the discussion and place a copy in the worker's file. This record will be helpful if the employee doesn't rectify the behavior and you need to take further action, such as suspension or termination.
Problem employees are bad for business. If you want to learn how to deal with difficult employees as a manager, start developing an action plan that works.
The following two tabs change content below.
Get more tips on interviewing, hiring, managing and engaging your employees. Dianne Shaddock is the President of Easy Small Business HR, Employee Hiring and Managing Tips and the author of the eGuides, "How To Supervise:  What Your Boss Never Told You Before You Took the Job", A Step-By-Step Guide For New and Seasoned Managers and "How To Find and Hire the Best Employees".
Latest posts by Dianne Shaddock (see all)