Today's guest post is from Anita Campbell, CEO of BizSugar.
Firing an employee can be the best thing you do for your company. Of course, it's better to just hire good people in the first place. But sometimes people just don't catch on, and you spend an inordinate amount of time correcting their work. When one employee is affecting the balance, productivity, and morale in your workplace, and no amount of counseling or encouragement helps, you have no choice but to fire them.
People are usually on their best behavior during a job interview, so you may not get an accurate idea of what they'll be like in the workplace on a day-to-day basis until it's too late and the problems have begun. The interview process isn't perfect, but by using a few techniques and avoiding a few pitfalls, you may be better able to determine early on whether someone will fit your office culture, and avoid a difficult firing later on. Here's how.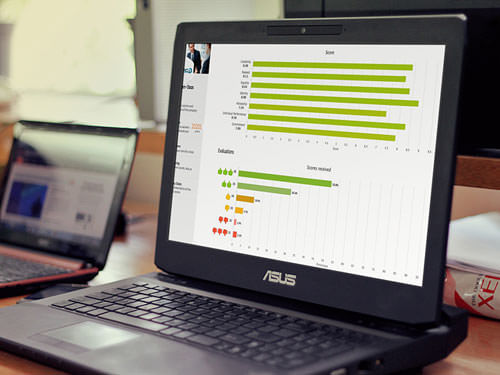 Working on improving employee engagement?
EPIC is an Employee Engagement software that gives you the tools and insights to create a workplace culture that encourages engagement, loyalty, and trust.
Avoid The Halo/Horn Effect
When interviewing people for a position in your startup, you're inevitably going to meet a few whom you like more than others simply because sometimes we just meet people we click with. Conversely, you may also interview someone who just rubs you the wrong way. The danger is that your decision to hire them—or not—may be colored by one small facet of your impression, either leading you to hire someone who really shouldn't be hired, or to turn away someone who could be great.

This is known as the halo/horn effect. It can be difficult to avoid emotional responses during an interview, but the best way to stay unbiased is to be aware of the halo/horn effect so you can recognize it if and when it starts to happen, and not allow those personal feelings to color your decision.
Get a Second Opinion
As a startup, your staff is probably still pretty small, and you've all most likely established a certain culture and sense of camaraderie with each other. Bringing a new person into such an intimate environment can easily cause chaos if they're not a good fit. Ask your staff to prepare a question or two each for the prospect. After you've finished your interview, introduce the interviewee to your staff, and allow them to ask their questions.
Doing this gives you the opportunity to see how the potential new hire interacts with your employees, and can give you an indication of whether they'd get along and fit in. This also has the effect of showing your current employees that you not only value their opinions, but that you recognize the balance you've built in the office is important, and that you're making the effort to maintain and protect it.
Your goal is to grow your business, and you need people who share your vision and motivation. When it becomes apparent that someone isn't quite in line with everyone else for whatever reason, as difficult as it may be, it's better to let them go and move on. Then they can find a place where they'll be happier, and you can find someone who really shines.
The following two tabs change content below.
Get more tips on interviewing, hiring, managing and engaging your employees. Dianne Shaddock is the President of Easy Small Business HR, Employee Hiring and Managing Tips and the author of the eGuides, "How To Supervise:  What Your Boss Never Told You Before You Took the Job", A Step-By-Step Guide For New and Seasoned Managers and "How To Find and Hire the Best Employees".
Latest posts by Dianne Shaddock (see all)