If your small business is getting back into the swing of hiring new employees, you might be looking for means to cut back on the cost of hiring these new employees. You need extra people to help with your business, but your business may not be able to operate with the full cost of hiring even a handful of new employees. Luckily, there are several different ways – many which are relatively painless – that you can cut back on costs for new hires. The key is knowing which options will work best for your business and your budget.
Hiring different types of employees
One way that many of today's businesses are cutting back on the cost of hiring new employees is by hiring contract workers instead. If you need work done in your IT department, or if you need your company's website developed, for instance, you can hire a freelance contractor rather than an actual employee. For the most part, these individuals require a higher wage, but the overall costs of hiring a contract worker – even if you are paying them for forty hours a week – is still cheaper than if you should choose to hire a full-time employee.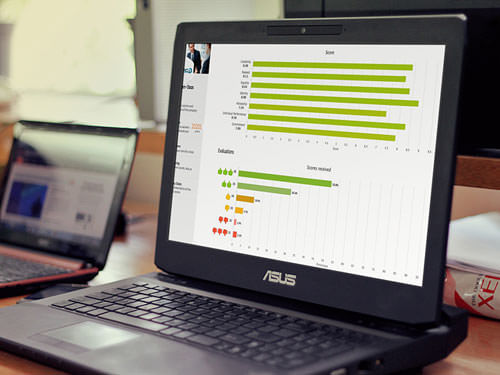 Working on improving employee engagement?
EPIC is an Employee Engagement software that gives you the tools and insights to create a workplace culture that encourages engagement, loyalty, and trust.
Why is this? Well, many small business owners, especially those who are rather new to business ownership and management, fail to take into account the actual costs of hiring a new employee. It's estimated that an employee annually costs a business about 1.5 to 3 times that person's actual salary. This is because with a true employee, you have to pay taxes, required government benefits, other benefits, rent for more office space, training, and a plethora of other costs.
If hiring contract workers could help boost your business without hurting the bottom line, this could be an excellent option for you.
Cutting back on training costs
One of the best ways to cut costs when it comes to new employees is to make your training more efficient and less costly. Small businesses tend to go about training new employees without much of a plan, and this can get costly. Here are just a few ways that you can make it cheaper to train new employees:
Plan out you trainings so they are as efficient as possible
Create an online employee manual through Google Docs to cut back on printing costs every time the manual is updated
Give new employees reference books for the areas of your business with which they'll be working – these books should include every possible detail you can think of, so that if something is missed during training, the employee can figure it out on his or her own
Work with area businesses who aren't your competitors when it comes to training new employees on major things like tools and software packages that both businesses use
Give new employees mentors who can help them get the feel for your business and become a functioning part of it more quickly
By making training more efficient, you can help cut down on your new hire costs pretty dramatically. This particular cutback works for almost all businesses, since most small businesses can stand to standardize and tighten up their training processes somewhat.
Consider alternative working situations
One final way that you may be able to cut back on new hire costs for your business is to consider alternative working situations. Hire hourly employees to work a shorter workweek or to telecommute for part or all of their jobs. Many jobs these days can be done mostly or completely online, and telecommuting saves your business the cost of buying new equipment and renting office space for every new employee! You might also consider options like job sharing for employees who are only looking for part-time positions.
These three ways to cut back on new employee costs could save your business thousands of dollars for each new employee that you hire. Choose the options that work best for your business, though, since they aren't all suitable for every business.
The following two tabs change content below.
Get more tips on interviewing, hiring, managing and engaging your employees. Dianne Shaddock is the President of Easy Small Business HR, Employee Hiring and Managing Tips and the author of the eGuides, "How To Supervise:  What Your Boss Never Told You Before You Took the Job", A Step-By-Step Guide For New and Seasoned Managers and "How To Find and Hire the Best Employees".
Latest posts by Dianne Shaddock (see all)