Managing employee performance is a day-to-day task, not a once-a-year obligation. These tips can not only help you determine where a worker falls on a rating scale but also help you take the next steps for both underachievers and top performers.
Before the Appraisal Period:
Putting more thought and effort into the initial performance standards means less work during the official reviews.
Set clear expectations upfront. Concrete goals such as "call 20 current customers per day using the service checklist" are easier to assess than vague goals such as "provide good customer service."
Identify performance areas that are so important to the company's mission that failure to perform well in that area results in an unacceptable performance evaluation. Examples of unacceptable behaviors may include cursing at a customer or being absent more than twice in a month.
Look at how quality, quantity, and timeliness can impact the performance standards. Take a balanced approach by identifying needs based on customer, business, financial, and innovation perspectives.
Make sure that both you and your employees understand the standards. Discuss example actions and how they would be rated.
During the Appraisal Period: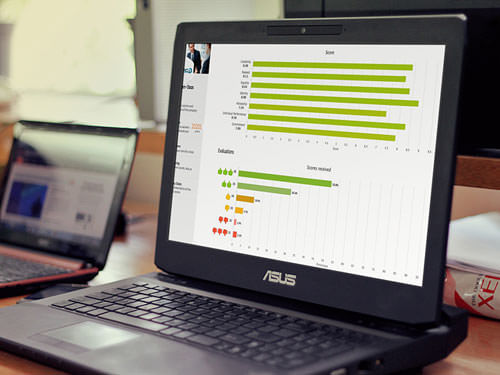 Working on improving employee engagement?
EPIC is an Employee Engagement software that gives you the tools and insights to create a workplace culture that encourages engagement, loyalty, and trust.
Let employees know often how they are performing toward business expectations. Frequent feedback prevents surprises during the official evaluation.
Document and review employee performance throughout the year. Without notes, many managers base assessments on current circumstances instead of the year in totality.
Provide encouragement and assistance for everyone, regardless of performance.
At Each Performance Review (Unofficial and Official):
Discuss each performance standard, its impact on the business, and specific examples of how the employee has acted or not acted toward the achievement of that standard.
Support areas of weakness.
Has the employee been struggling with personal issues? Suggest counseling.
Does the employee lack technical knowledge? Suggest training courses.
Does the employee lack procedural knowledge? Suggest a mentoring partnership, simulations, or shadowing.
Does the employee lack sufficient resources? Supply additional money, time, equipment, or human resources.
Is the employee a poor fit with job duties? Consider restructuring duties or people.
Has the employee exhausted all options? Consider termination.
Offer additional responsibilities that are of interest to the employee.
Invite suggestions from subject matter experts.
Provide access to training, conferences, and projects that could open opportunities.
Do not punish top performers by drastically altering their performance expectations.
Be clear about the paths to more money, promotions, greater flexibility, and other rewards.
The following two tabs change content below.
Get more tips on interviewing, hiring, managing and engaging your employees. Dianne Shaddock is the President of Easy Small Business HR, Employee Hiring and Managing Tips and the author of the eGuides, "How To Supervise:  What Your Boss Never Told You Before You Took the Job", A Step-By-Step Guide For New and Seasoned Managers and "How To Find and Hire the Best Employees".
Latest posts by Dianne Shaddock (see all)