Hiring the best starts with a hiring the best.  Here's a quick 5 step guide that will help you to make better hiring decisions and ensure that your hiring process is a smooth one.
Step 1:   Define your company's  job requirements and create or update the job description. Without a clear idea in mind of what you are looking for in a candidate, you will be unable to find the best fit for the position.
Write down a summary of the job responsibilities.  Your description should also include education and experience requirements, skill sets and soft skills such as "exceptional interpersonal skills".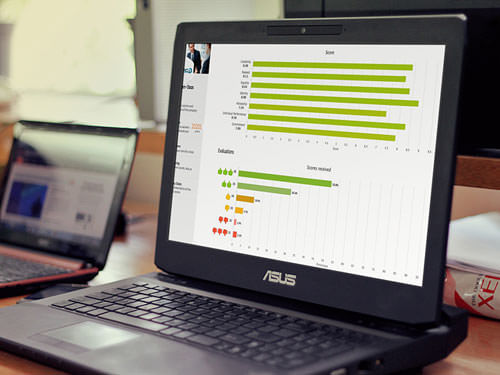 Working on improving employee engagement?
EPIC is an Employee Engagement software that gives you the tools and insights to create a workplace culture that encourages engagement, loyalty, and trust.
It's a good idea to include the hours and schedule that your new employee will work per week in the description.
Step 2:  The next step in the hiring process is to publish your job posting if appropriate and start recruiting.  Once you start receiving responses to your recruitment efforts, you can then start to review and evaluate your job applicants' resume.  Here's where the work that you've done with your job description will be helpful.
Review the skills, experience, and education needed for your position and compare it to the skill sets featured in the resumes that you have received.  Eliminate any candidate who does not have the minimum requirements that you have outlined in your job description.   Your minimum requirements are those key attributes, skill sets or work experience that is essential for your job such as a certain level of education,  experience with a certain type of software or a minimum level of related work experience.
You should then take a second pass and separate the "A" candidates from the "B" candidates.  Your  "A" list should include those candidates who have all or most of the experience that you need as outlined in your description.  Your "B" candidates are your "maybes".  These are the candidates that meet the minimum qualifications, but who have many, but not all of the experience and skill requirements that you need.
Step 3:  It's time to contact candidates for interviews. I'm a big fan of phone screening candidates before bringing them in to meet with you. Consider the phone screen as the first interview and ask questions that will help you to quickly determine whether you want to meet with the candidate for a more indepth interview.  Phone screens should be short; 5 – 10 minutes is appropriate.  The goal is to ask questions that will help you to determine whether the job applicant not only has the skills that you need, but that they display strong communication skills on the phone.  A good resource for learning how to phone screen  is How To Phone Screen Job Candidates.
Step 4:  The Face to Face Interview.  Here's your opportunity to have an indepth conversation with your candidates.  Develop your questions based on your job description and be sure to keep questions job or work experience specific.  Be sure to give your candidates a chance to ask questions of you at the end of the interview.  It's a good business practice to let the candidate know what the next steps are in the hiring process and when they can expect to hear from you.
Step 5:  Once you've made a decision on the best candidate for the job, it's time to check references, determine a salary and make a formal job offer.  Be clear with your candidate when extending a job offer, when you will need to hear back from them with a decision.
Check out these additional resources that will help you with your hiring process:
Developing Your Interview Questions – The Behavioral Interview Style of Questioning
The Best Interview Questions To Ask Any Candidate
Four Employment Reference Checking Tips For Managers
The following two tabs change content below.
Get more tips on interviewing, hiring, managing and engaging your employees. Dianne Shaddock is the President of Easy Small Business HR, Employee Hiring and Managing Tips and the author of the eGuides, "How To Supervise:  What Your Boss Never Told You Before You Took the Job", A Step-By-Step Guide For New and Seasoned Managers and "How To Find and Hire the Best Employees".
Latest posts by Dianne Shaddock (see all)