Transcript of ESBHR Podcast #23: Supervisors : 7 Reasons Why You Can't Afford to Ignore Poor Workplace Behavior
Listen to the audio.
One of the things that I've found to be consistent when working with supervisors is that there is a reluctance to deal with behavioral issues in the workplace.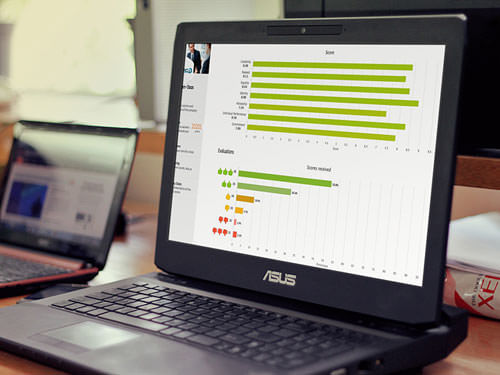 Working on improving employee engagement?
EPIC is an Employee Engagement software that gives you the tools and insights to create a workplace culture that encourages engagement, loyalty, and trust.
This of course is not surprising as it's the rare person that enjoys arguing and fighting with people, never mind with their own staff whom they are charged with leading.
What I've also found is that because of the reluctance to deal with poor behavior, the supervisor often just ignores it. What often happens and what is far worse than just ignoring workplace issues in my opinion is —leaving it up to employees to resolve issues on their own. This only exacerbates whatever the workplace issue is, and it causes resentment on the part of the affected employees.
As unsavory of a job that it is to have to deal with workplace issues, it's a responsibility that is part and parcel of managing employees.
As supervisor, you are charged with making sure that all of your employees are not only performing the work that they are being paid to complete, but that your employees understand that it's their responsibility and your expectation that they are always respectful of others, and that they behave in a professional manner at work.
Choosing to ignore inappropriate behavior instead of addressing poor behavior immediately can cause a number of issues for your business.
#1: Ignoring Poor Workplace Behavior Contributes to a Loss of Productivity: When your employee yells instead of talks respectfully to others, or who comes late to work is not working to their fullest capacity. You lose customers when there is no one there to service them, or if they witness poor behavior in what should be a professional environment. Needless to say, allowing this type of behavior to continue reflects poorly on your company ; and ultimately it reflects poorly on you as the supervisor.
#2: Ignoring Poor Workplace Behavior Negatively Affects Employee Morale: Just because your employees aren't tearing down your office to share concerns about other colleagues, does not mean that they don't have concerns or that they may not be aware of the issues that were brought to your attention.
Poor workplace behavior gets around.
Don't leave it up to staff to create their own perceptions about why the offending employee is allowed to continue to behave poorly without you intervention.
When left to wonder about what is really happening, I can guarantee that your employees are thinking that either your poor employee is above reprimand, or that you are just not capable of dealing with difficult issues.
#3 : Ignoring Poor Workplace Behavior Can Lead To Perceptions of Preferential Treatment: Employees that see that you allow a co-worker to finish assignments late with no consequence, or see that there are employees who tell you what work they will do or not do are often viewed as 'untouchable' by their co-workers. This can lead to feelings of resentment from your other employees.
#4 : Ignoring Poor Workplace Behavior Has A Negative Impact on Your Employee Turnover: When your best employees don't like coming in to the office because they know that there will be trouble, or office 'drama', or they perceive that some employees are getting preferential treatment, you really are at risk of a mass exodus over time. No one wants to work in an unstable office environment.
That may sound pretty dramatic, but it's pretty accurate.
Don't let the first clue that your solid employees are miserable when they are handing you a resignation letter.
#5 : Ignoring Poor Workplace Behavior Contributes To A Lack of Respect From Your Employees As Well As Business Colleagues: The reality is that employees have zero respect for supervisors who don't take action; especially when it comes to disruptive co-workers.
A management best practice is to conduct exit interview on all of the employees leaving your company. I've conducted many exit interviews and a consistent theme during those interviews for employees who worked in areas where there were issues with co-workers was that these employees had no respect for managers that they reported to that did not deal with difficult workplace situations head on.
Now, even better than conducting interviews when people are leaving the company, speak to employees on a regular basis to get a sense of what the culture is and how engaged they are.
#6 : Ignoring Poor Workplace Behavior Can Lead To Potential for Lawsuits and Other Legal Issues: When you allow employees to cross the line in the workplace without taking immediate action, your remaining staff won't feel confident enough to approach you with their concerns. They know from experience based on your past actions that you won't do anything to address difficult employee issues and therefore don't feel confident that you'll even listen to their concerns.
Some will feel that their only hope or remedy is to talk to someone outside of your company and that often means an attorney or some or regulatory agency, and you don't want that to happen.
You also set yourself up to invite unions to form in your company. When you have dissatisfied employees, they look for remedies wherever they can find them.
# 7 : Ignoring Poor Workplace Behavior = Lost Customers, Clients and Money: When employees are being disruptive and your remaining employees are spending time by the water cooler whispering to each other about the latest office drama, know one is working to their utmost capacity.
Customers who witness this behavior or who are on the receiving end of it certainly will have no interest in patronizing your company so these customers disappear.
As you know, word of mouth can work for or against your business and it's almost guaranteed that customers; even other employees are talking about workplace issues to others outside of the company which will ultimately affect business growth and revenue and your reputation as an organization.
The easy solution is to not let workplace issues mushroom out of control. Deal with problems right away and take advantage of other resources to help you to come up with an approach on how to speak to employees about inappropriate behavior and other issues. If you have an HR office, be sure to utilize their expertise.
Or, speak with a trusted colleague within the organization to bounce ideas off of and to get advice on how to best deal with issues. Take advantage of other resources such as books, or articles; there are a lot of free articles on the web; and you can certainly find many articles on the Easy Small Business HR website.
The important thing to remember is to take action quickly and deal with these issues head on.
If you don't have an HR expert on staff, or you've read a number of articles and you are looking for more information, you may want to take advantage of the book: How to Manage Problem Employees: A Step-by-Step Guide for Turning Difficult Employees into High Performers.
You can get more details on my recommended book by going online to
https://easysmallbusinesshr.com/PoorBehavior
The following two tabs change content below.
Get more tips on interviewing, hiring, managing and engaging your employees. Dianne Shaddock is the President of Easy Small Business HR, Employee Hiring and Managing Tips and the author of the eGuides, "How To Supervise:  What Your Boss Never Told You Before You Took the Job", A Step-By-Step Guide For New and Seasoned Managers and "How To Find and Hire the Best Employees".
Latest posts by Dianne Shaddock (see all)