As mentioned here on Easy Small Business HR before, hiring can be an incredibly difficult process, necessitating careful screening in order to hire the best employee possible.
One mistake could end up costing you many dollars in either lost productivity or having to fire and retrain someone else for the position. However, as also duly noted, there is no such thing as the "perfect" candidate, so you'll have to make decisions based on the applications you receive.
But what happens when you have two or more equally qualified candidates? How does a hiring manager go for one instead of the others without making a completely arbitrary decision?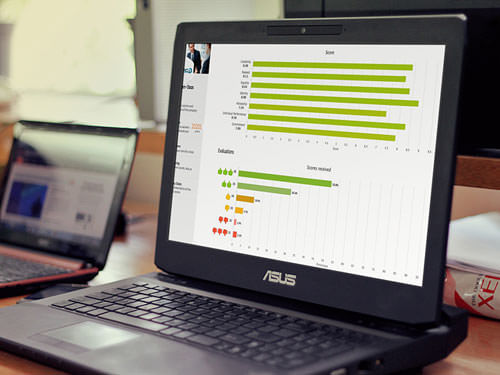 Working on improving employee engagement?
EPIC is an Employee Engagement software that gives you the tools and insights to create a workplace culture that encourages engagement, loyalty, and trust.
Of course, when you have a handful of candidates who all have the same amount and quality of experience under their belts, you'll have to let your intuition guide you based on "intangibles".
This can equate to anything from the person whom you simply liked the most to the one who seemed most enthusiastic about the job. Still, these criteria have their own problems. After all, appearances can be deceiving, and one or two interviews is simply not enough to determine the extent of their enthusiasm or the sincerity of their likability.
One aspect that I believe many managers overlook when making tough decisions is considering how well a potential employee will fit into the company's overall culture.
As much as we prize diversity of backgrounds and perspectives, there is something to be said for building a team in which values and personalities fit in to an integrated whole. After all, the candidate whom you are seeking to fill a certain position won't be working in a vacuum. She will have to work with others on a daily basis. In this sense, it's not enough for a potential employee to simply "work well with others."
Of course, being open to teamwork is important. But maximizing the potential quality and productiveness of this teamwork means choosing a candidate whose personality supplements the other employees with whom the new hire will work.
Determining this "personality fit" is also somewhat difficult and arbitrary, but knowing the other employees well, an ability that is much more viable in a small business, makes demystifying the process a little easier.
Another effective way to determine personality or company culture fit is to involve employees in the hiring decision as well. After all, you may not be working directly with the new hire are at all. Thus, it makes sense to establish a dialogue with those other employees who will be communicating with the new hire daily. This is an especially good practice, as it empowers current employees with sense of connectedness to the company.
In the final analysis, if you are caught between several equally qualified candidates, consider factors that extend beyond each candidate's individual qualities. Consider the bigger picture to make the best final decision.
The following two tabs change content below.
Get more tips on interviewing, hiring, managing and engaging your employees. Dianne Shaddock is the President of Easy Small Business HR, Employee Hiring and Managing Tips and the author of the eGuides, "How To Supervise:  What Your Boss Never Told You Before You Took the Job", A Step-By-Step Guide For New and Seasoned Managers and "How To Find and Hire the Best Employees".
Latest posts by Dianne Shaddock (see all)