I know.  You've heard me tackle this subject before on my blog.  But it's a topic worth revisiting  You have to take the bull by the horns and develop the skill of dealing with confrontation.
When you manage employees, it's  the most important part of your job.  Ignoring problems has far reaching business impact.
Yet the one thing that I've found that has been consistent over my years of coaching managers on how to manage is the fear of dealing with difficult employees, or difficult workplace situations directly.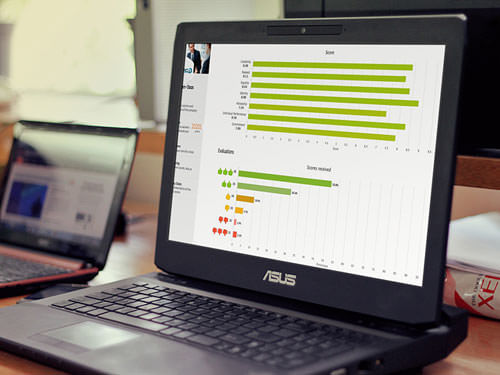 Working on improving employee engagement?
EPIC is an Employee Engagement software that gives you the tools and insights to create a workplace culture that encourages engagement, loyalty, and trust.
I recognize that confrontation at almost any level is very difficult for most supervisors.   Most of us care about what others think of us.  We want to be liked and respected.  It's hard to be the "bad boss".  It's even harder to have to deal with someone who might be confrontational, argumentative, even intimidating.
As you've likely experienced if you've managed employees for any length of time, ignoring even the most minor issues can create larger problems:
* Issues doesn't go away and can actually become even more complicated and harder to tackle.
* Employee morale is affected.
* Your best employees almost always become resentful and unhappy.  You won't always know that they are resentful or unhappy because they won't tell you in most cases.
* Turnover increases
* Work productivity is reduced
* Perception of you as a leader is negatively impacted
The first step is to make the decision that you will address problems when the issue occurs and that you won't shy away from delivering difficult messages.
So Just How Do You Manage Difficult Employees? Tips On How To Deal With A Difficult Employee, or Issue
The next step is to develop a plan of action that will make it more comfortable for you to tackle these issues.  For example, when you know that you'll need to make an employee who is consistently late for work aware that this has become an issue, write down:
* What the issue is
* The pattern of behavior that you've observed over time
* The business or workplace impact of the behavior
* Your expectations and action steps that your employee needs to take to resolve the issue
Use the information from your bullet points as your talking points when you have your conversation with your employee.
I'll be sharing more information soon on a step by step action plan for managers at all levels that will assist you with dealing with difficult situations; including how to have the difficult conversation and specific "talking points" based on a variety of possible workplace issues that will help you with having that difficult conversation.
In the meantime, make a promise to yourself to take steps to address issues immediately.
Contact me if you have a difficult situation that you'd like for me to include in my step by step plan that I'll be developing just for you:
Be sure to put: "Difficult Situation Coaching" in the subject line.
To your success!
The following two tabs change content below.
Get more tips on interviewing, hiring, managing and engaging your employees. Dianne Shaddock is the President of Easy Small Business HR, Employee Hiring and Managing Tips and the author of the eGuides, "How To Supervise:  What Your Boss Never Told You Before You Took the Job", A Step-By-Step Guide For New and Seasoned Managers and "How To Find and Hire the Best Employees".
Latest posts by Dianne Shaddock (see all)