What is good customer service and how do you teach good customer service to your employees?
This post is one of my personal favorites.  I wrote it based on an experience that I had last year when I decided to try a new Ophthalmologist.
Based on the types of queries that I receive from managers, customer service skills…  quality customer service skills is a top priority for many businesses.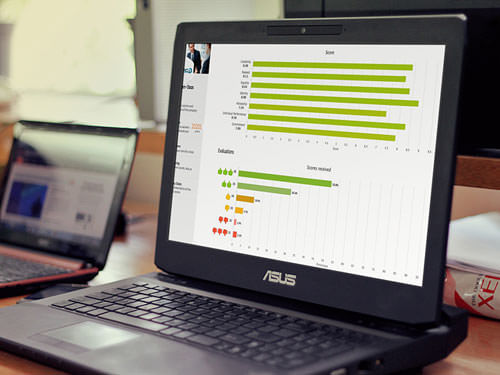 Working on improving employee engagement?
EPIC is an Employee Engagement software that gives you the tools and insights to create a workplace culture that encourages engagement, loyalty, and trust.
Anyone in any type of service industry can get some insights on how even perceived slights can send your customers running to your competitor's door!
Are Your Employees Scaring Your Customers Away?
It was time for my yearly eye exam and I decided to change my Ophthalmologist.  I needed to find an optical shop closer to home.
I spent a lot of time finding this particular optical shop and was happy that the shop was conveniently located, had plenty of parking available, and was open during the evenings and weekends.
When I called to schedule the appointment, the receptionist was very pleasant and accommodating.  Convinced that I had found the perfect place for all of my optical needs, I scheduled my appointment.
On the day of the appointment, a friendly employee at the front desk greeted me.  She took all of my pertinent information and asked me to "Take a seat, the Doctor will be with you soon."
Things quickly went down hill from there.
The Doctor greeted me with a loud,  "Next victim"!  I guess this was my cue to go into his office, which I did.
The actual exam was quite uneventful.  When it was over, he uttered, "Let's get to why you're really here; to get contact lenses".
No, why I'm really here is to get my annual eye exam.  I never mentioned needing contact lenses; but I guess he knew better than I why I scheduled an appointment with him.
The kicker was when the doctor led me out of his office, and in the public waiting area bellowed, "Have a good day and stay out of jail".
Have a good day and stay out of jail?  Hmmm.  Not sure what it was about me that made him think that I might be prone to being on the wrong side of the law…
In case you're wondering, I'll never go back to this optical shop.  And, I've told everyone who would listen about my experience. Of course I can't tell the story without including the name and location of the optical shop.  I don't want my friends and family members to have the same experience as I had.
I'm guessing that the doctor thought he was being "friendly", "funny", "witty", "familiar", (choose one).  I found him to be "offensive", "unprofessional", and "obnoxious", (choose all).
One of the biggest mistakes that small businesses make is not ensuring that all of their employees are trained to interact with customers in a professional manner.
If you want to retain the customers that you have and benefit from the customers that they may refer your way,  it behooves you to set some basic standards relating to your expectations on how to best interact with customers.  That includes setting standards as to what type of small talk is appropriate, and examples of what is considered inappropriate.  Otherwise, you're leaving a lot of money on the table, and putting your reputation as a business on the online.
The following two tabs change content below.
Get more tips on interviewing, hiring, managing and engaging your employees. Dianne Shaddock is the President of Easy Small Business HR, Employee Hiring and Managing Tips and the author of the eGuides, "How To Supervise:  What Your Boss Never Told You Before You Took the Job", A Step-By-Step Guide For New and Seasoned Managers and "How To Find and Hire the Best Employees".
Latest posts by Dianne Shaddock (see all)